Glisan Commons Phase II is under construction in the Gateway area of East Portland. The project, designed by Carleton Hart Architects for REACH Community Development, will provide 60 units of senior housing for those earning 30-60% of area median family income. The building is designed to allow residents to age in place, with features that include handrails in the hallways and fully accessible units.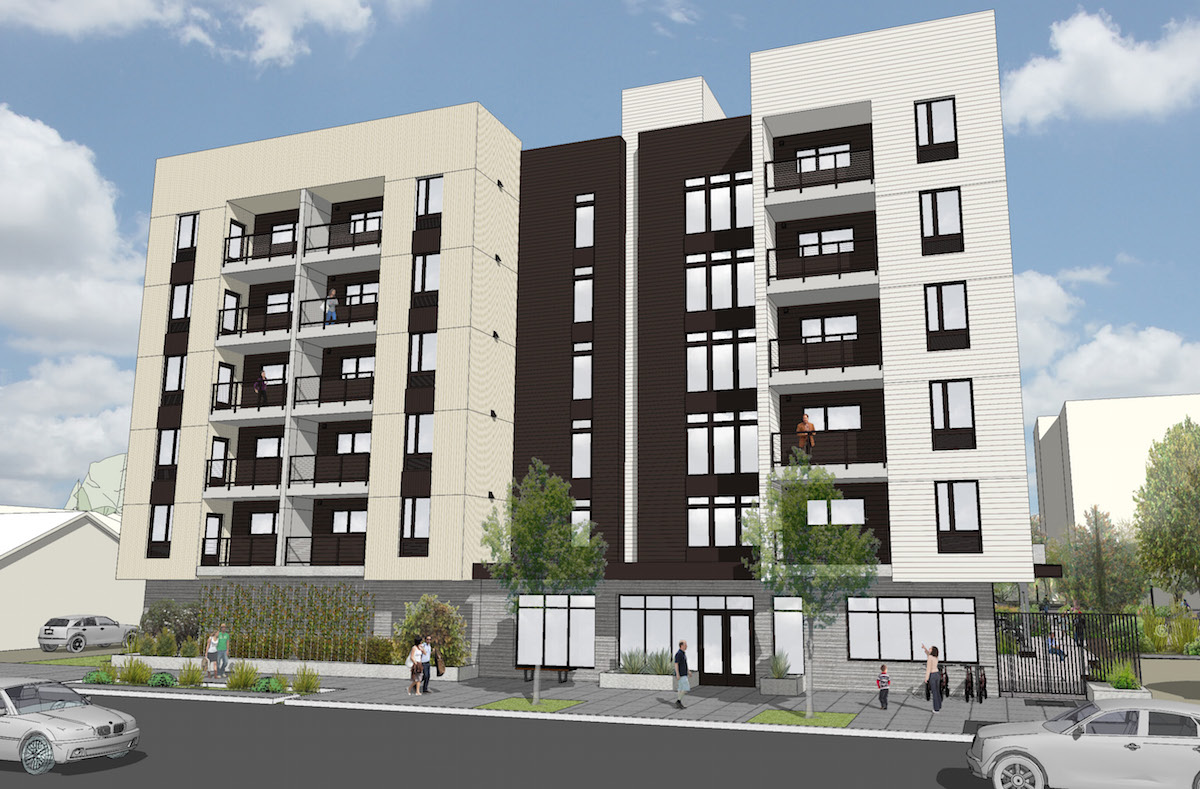 The project is located in the Hazelwood neighborhood, and faces onto both NE 99th Ave and NE 100th Ave. The primary entrance will be on NE 99th Ave. It is the second and final phase in a masterplan approved in 2012 for the nearly full block site.  The site, seen below in 2012, was originally developed with three single-family homes, one commercial building, and one barn. Phase I, designed by Holst Architecture for Human Solutions, broke ground in 2012 and opened in 2014.
Glisan Commons Phase II includes 84 on-site parking spaces, some of which are tucked under the building. 19 of the spaces are the Phase II building, while the rest will be for the use of the recently completed Phase I building. The two buildings will share an interior block courtyard. A "raised plaza" will be located on the second floor, accessed from an interior community room.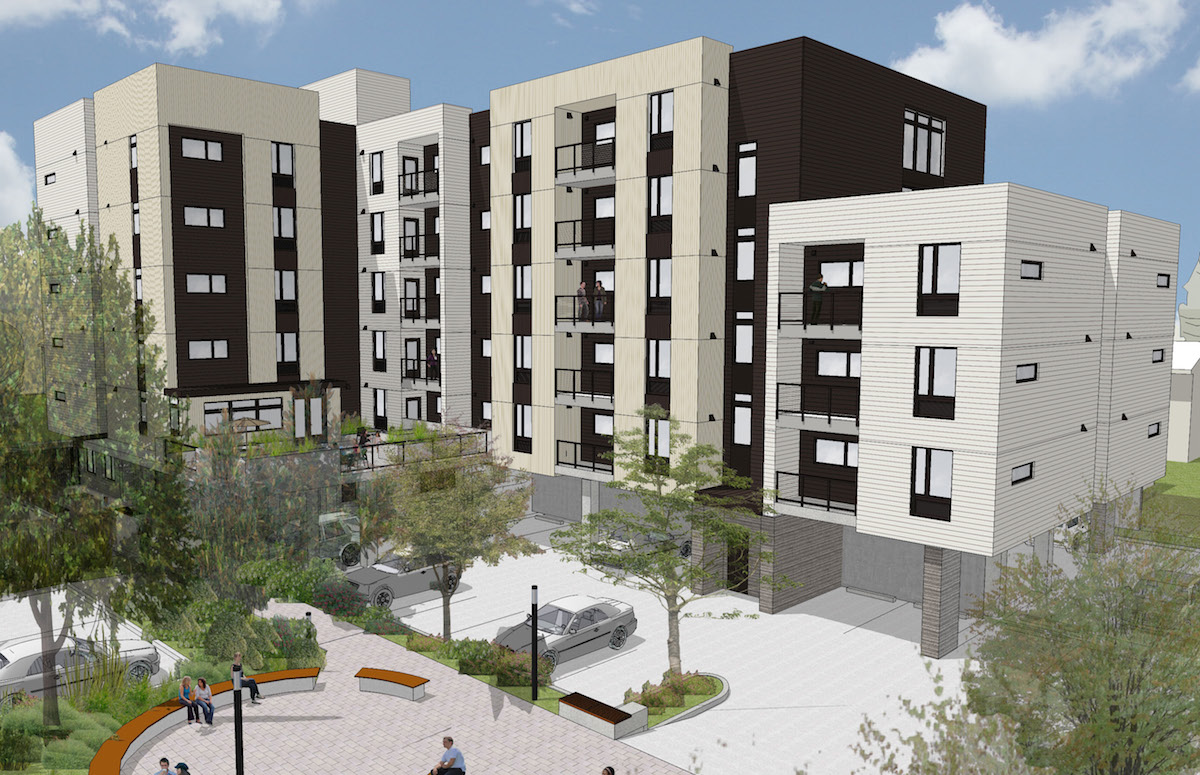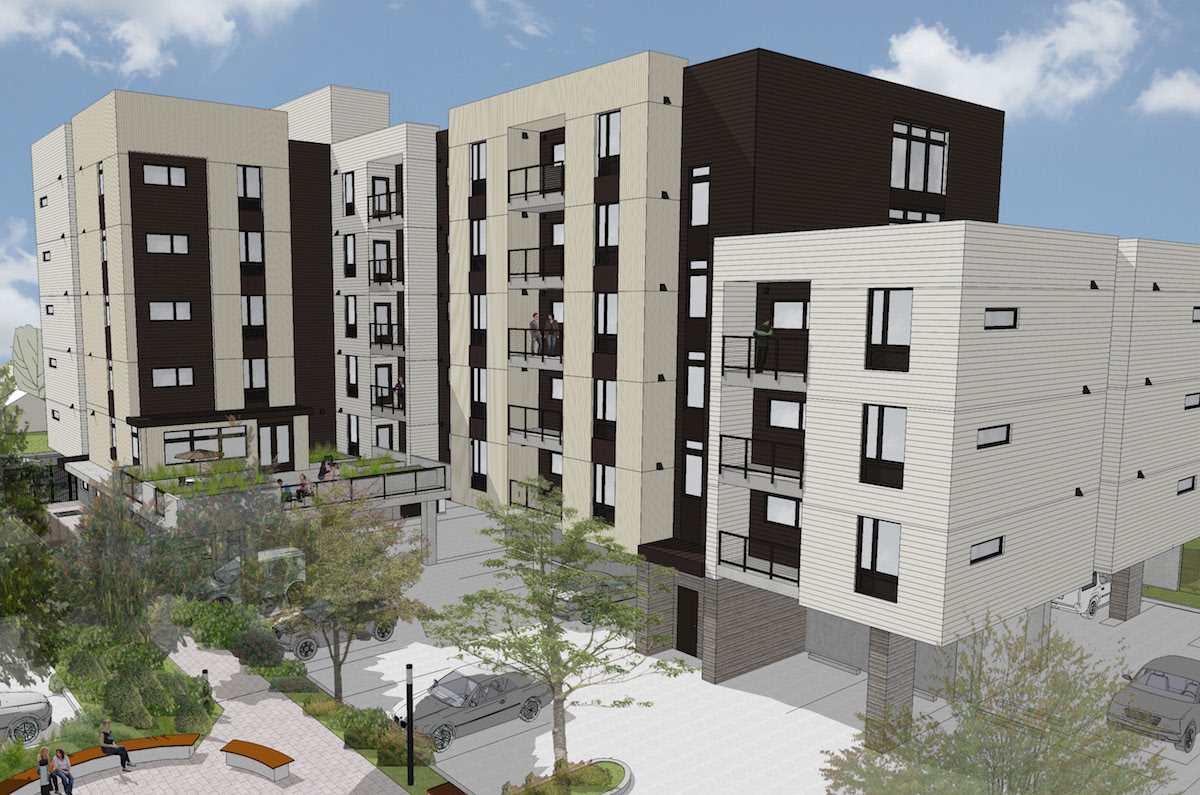 Primary exterior materials will include smooth and board-formed concrete, metal panels and fiber cement lap siding. The ground floor windows will be dark bronze aluminum storefront and the upper story windows dark brown fiberglass.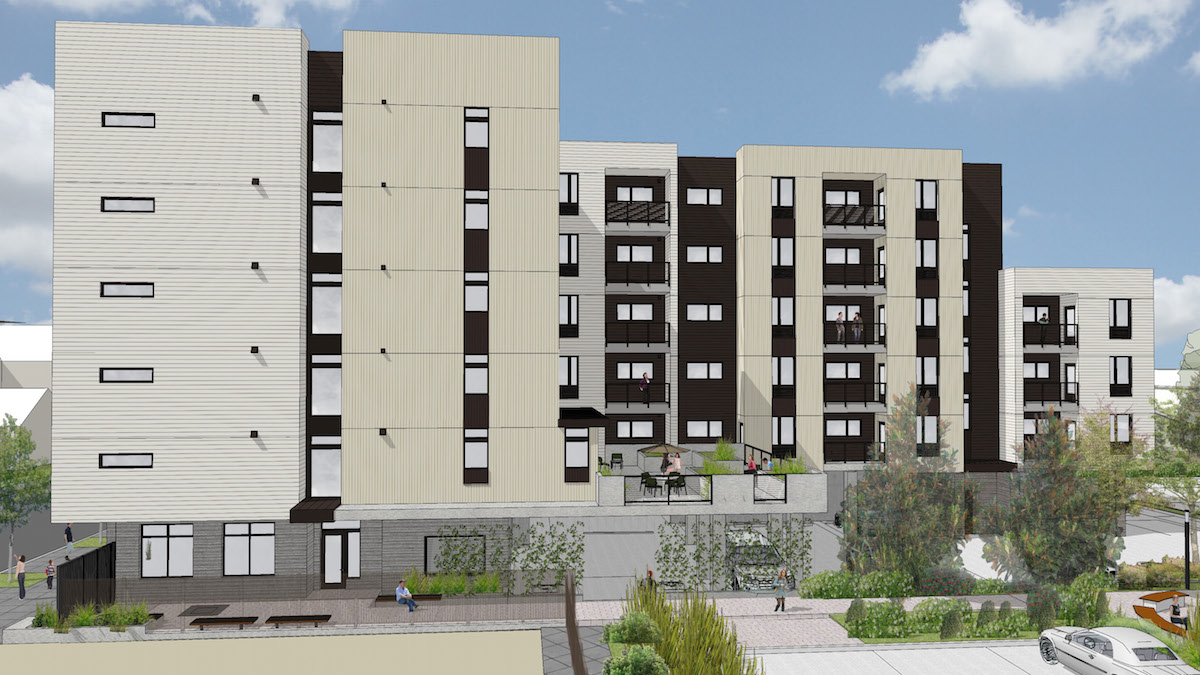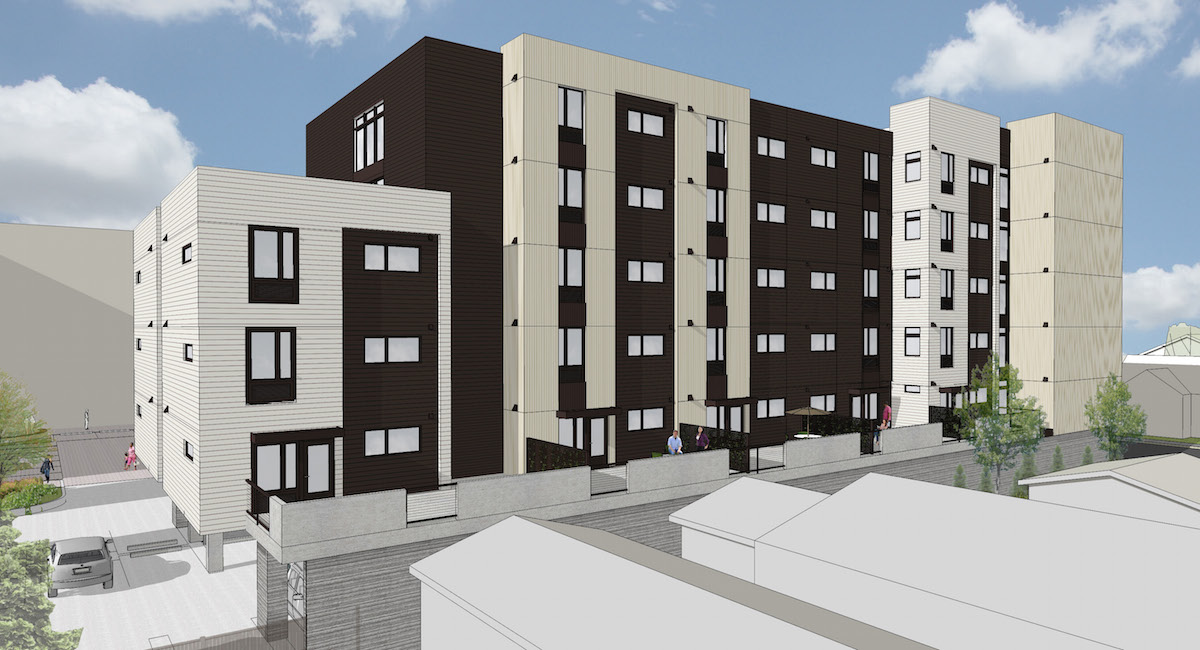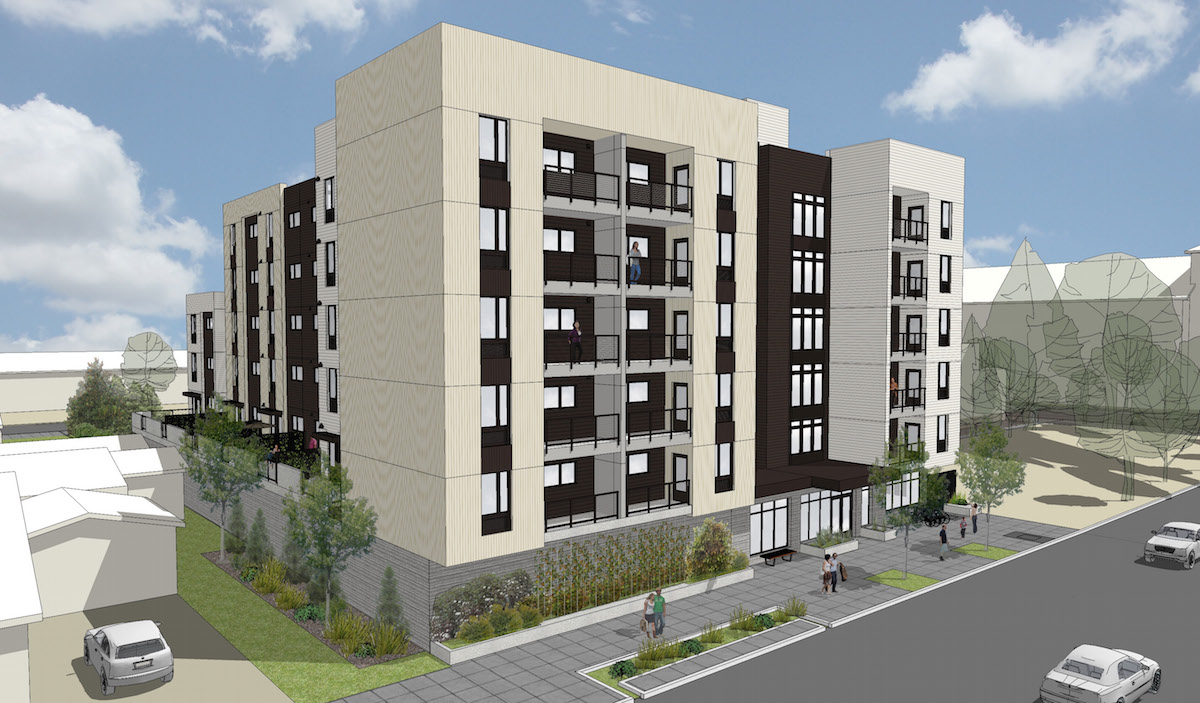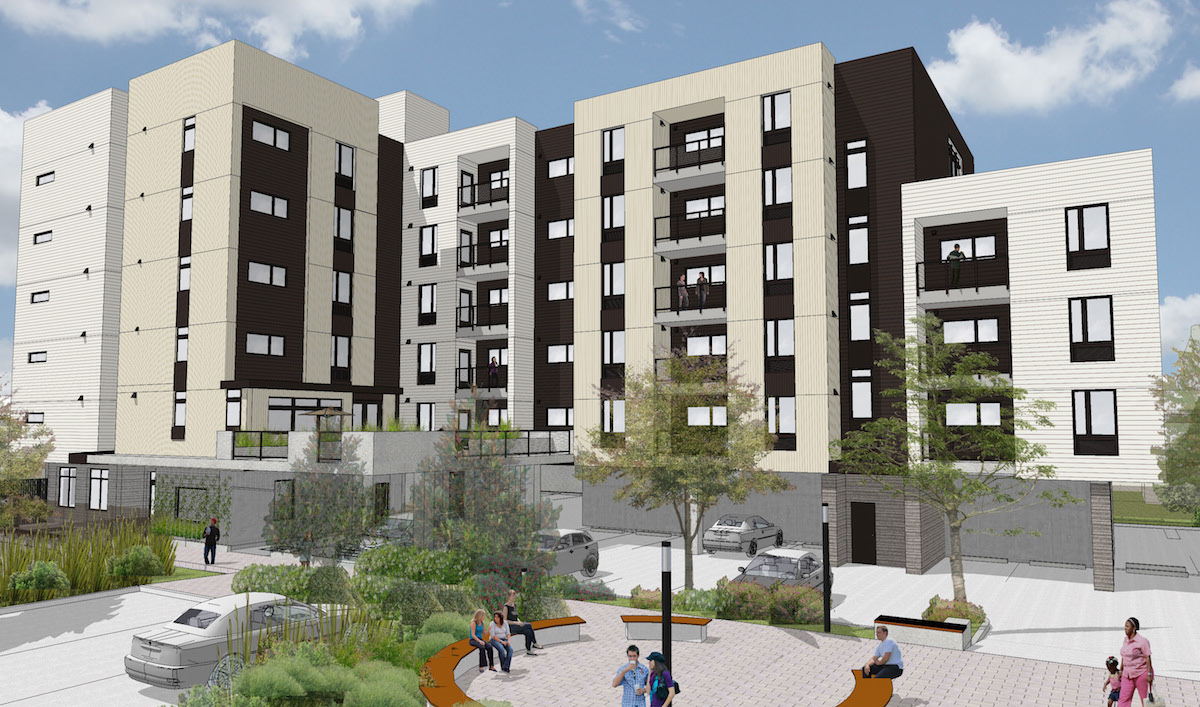 The project was approved by the Design Commission in January 2014. No written responses were received from either the Neighborhood Association or notified property owners during the review period. The Final Findings And Decision By The Design Commission [PDF] concluded that the project will be a positive addition to the area:
The design review process exists to promote the conservation, enhancement, and continued vitality of areas of the City with special scenic, architectural, or cultural value. The Glisan Commons Phase II senior housing building with its parking area and outdoor courtyard is a comprehensive design of high-quality materials that will be a significant contribution to the Gateway Regional Center. The strong building massing highlighted by changes in materials, different window planes, and large glazed storefront areas form an interesting building design. The overall massing and pattern of projecting and recessed elements creates a coherent building form and the project will be a nice addition to the area.
Construction began in March 2014 and is scheduled for completion in April 2015.
Plans, Elevations and Sections