The project team behind the planned Hyatt Regency at the Oregon Convention Center have returned for a third Design Advice Request hearing in front of the Design Commission. The $212 million, 600-room Convention Center hotel is being developed by Minneapolis based Mortenson, with a design team that includes ESG Architects, Ankrom Moisan Architects and Mayer Reed Landscape Architecture. The hotel is in part being financed by $60 million of Metro issued bonds, which will be backed by lodging taxes paid by hotel guests.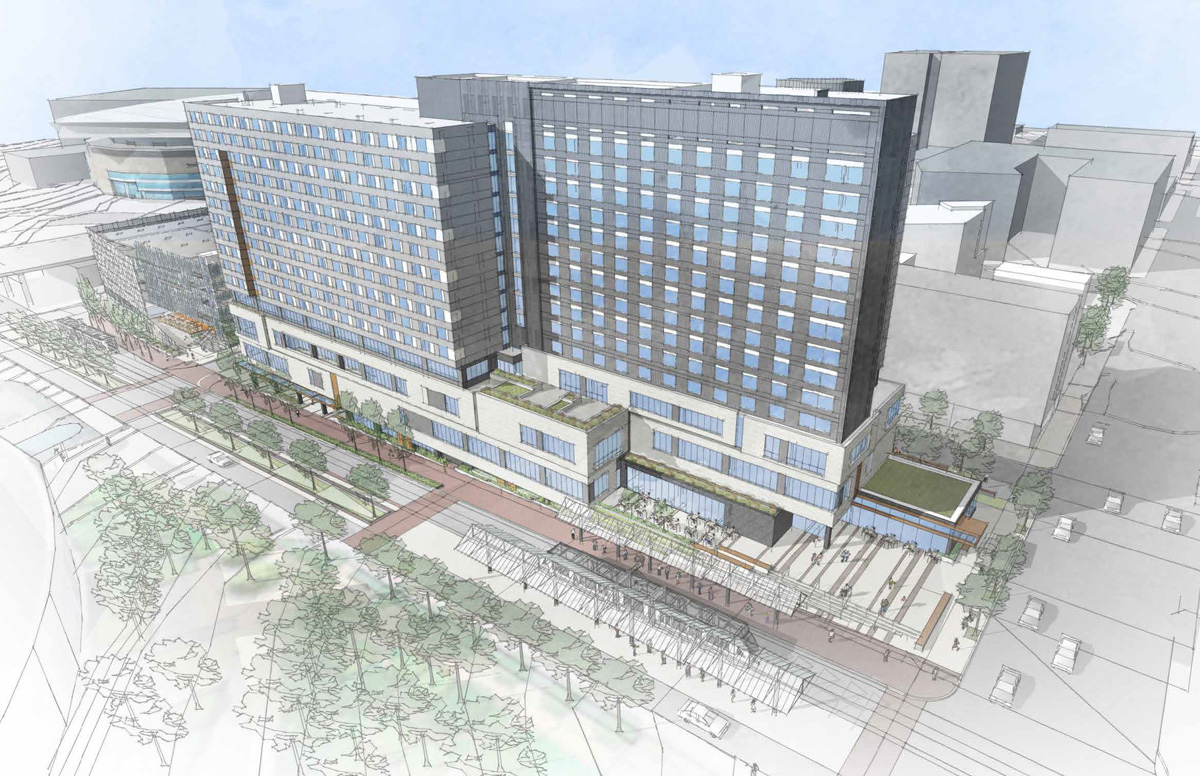 The site for the proposed hotel is a superblock in the Lloyd District, directly across the MAX tracks from the Oregon Convention Center. The site is bound by NE Martin Luther King Jr Blvd, NE Holladay Street, NE 2nd Ave, and the under construction NE Hassalo Place. The Union Apartments are nearing completion across NE Hassalo Place. The design concept for the hotel is that it be a "quiet tower" that doesn't compete with the Convention Center spires.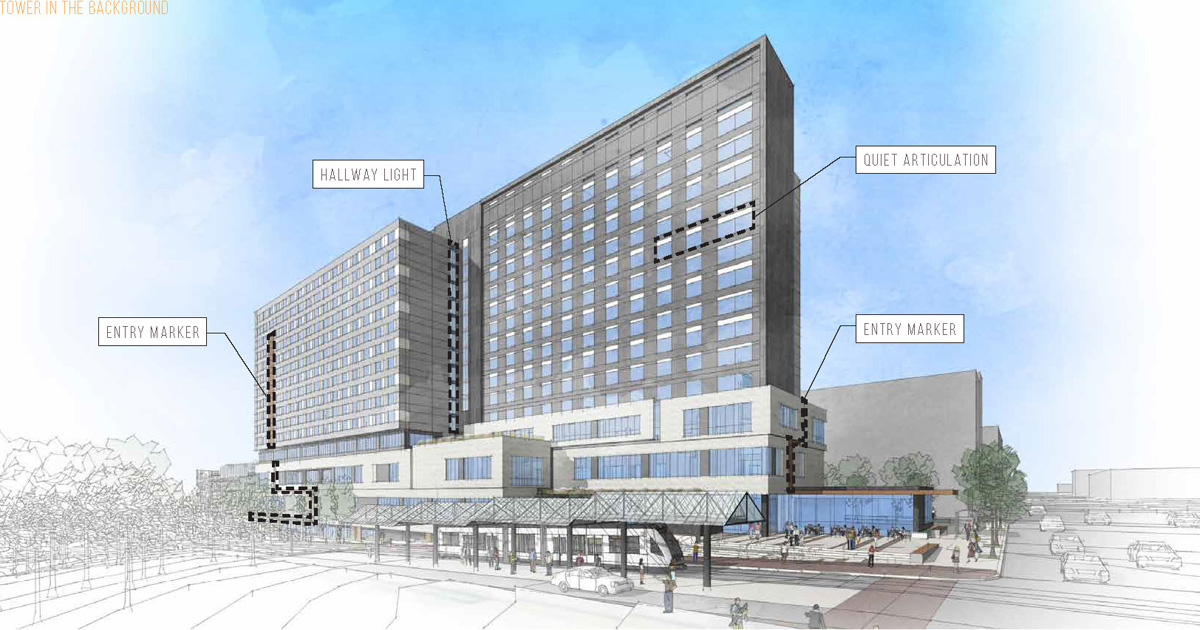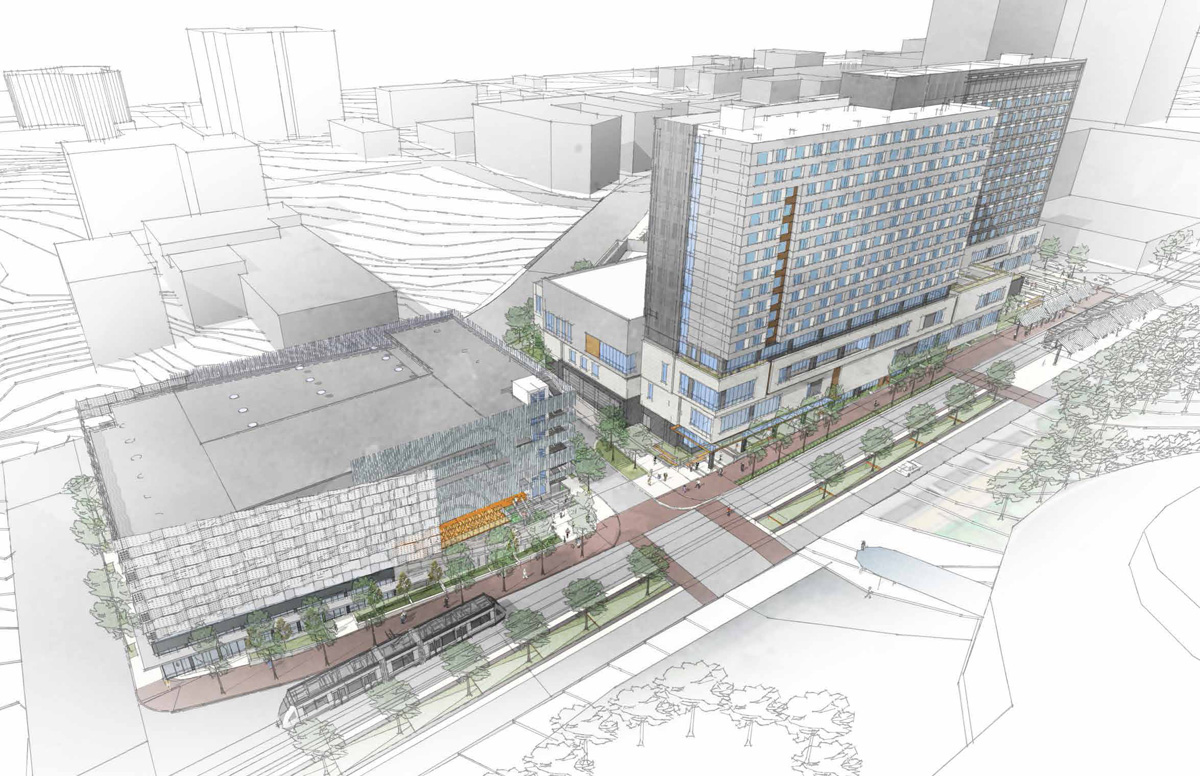 The Design Advice hearing focussed heavily on the interaction between the hotel and NE Holladay Street, on which the MAX runs. The street is being designed as a showcase for green infrastructure, with connected green roofs, terraces, bioswales and rain gardens. While welcoming the intent behind the landscaping, the Design Commission expressed strong reservations about whether the hotel elevations shown were creating the required public realm quality. In particular the need for a more prominent and welcoming entrance from NE Holladay St was repeatedly stressed. The Commission also expressed unanimous support for returning to the podium concept presented at the second Design Advice hearing.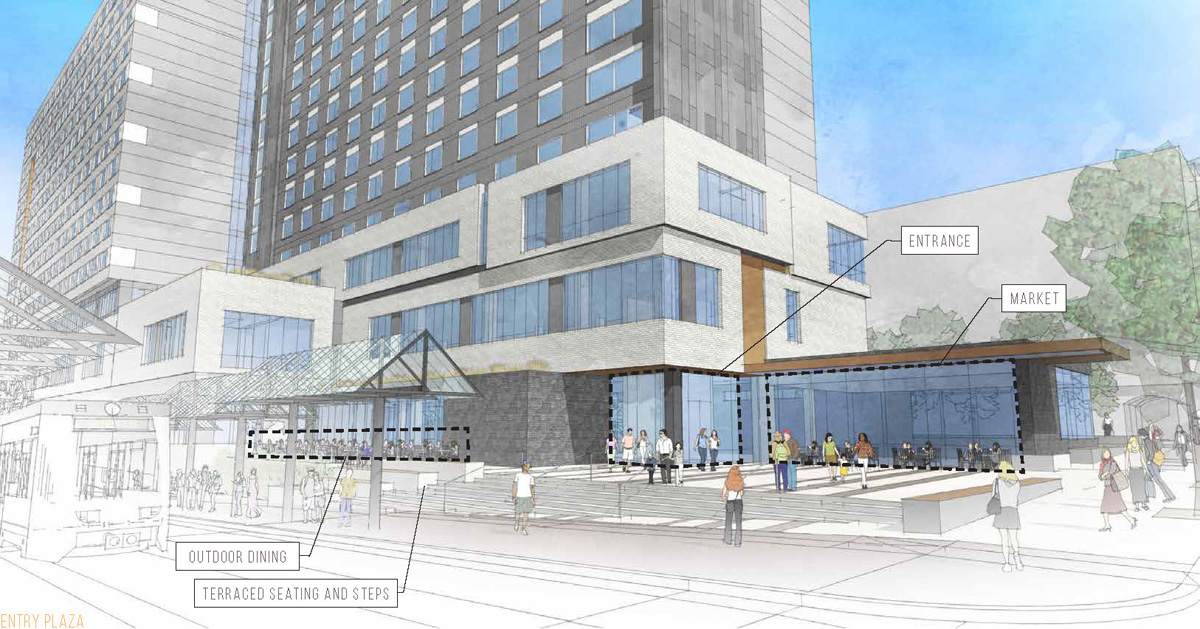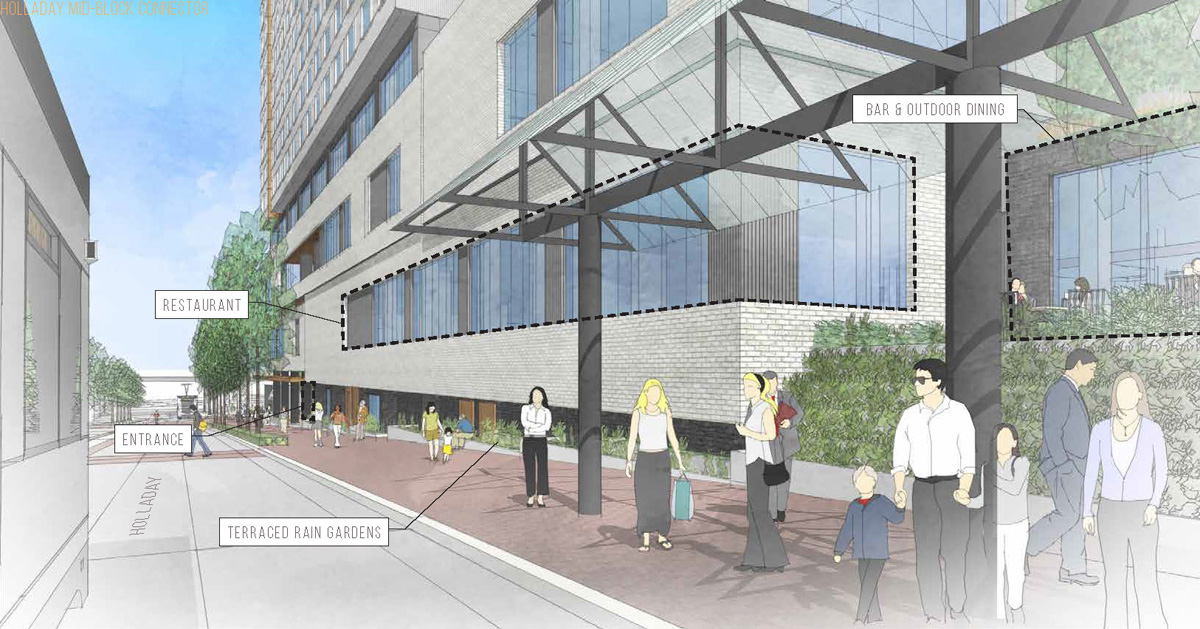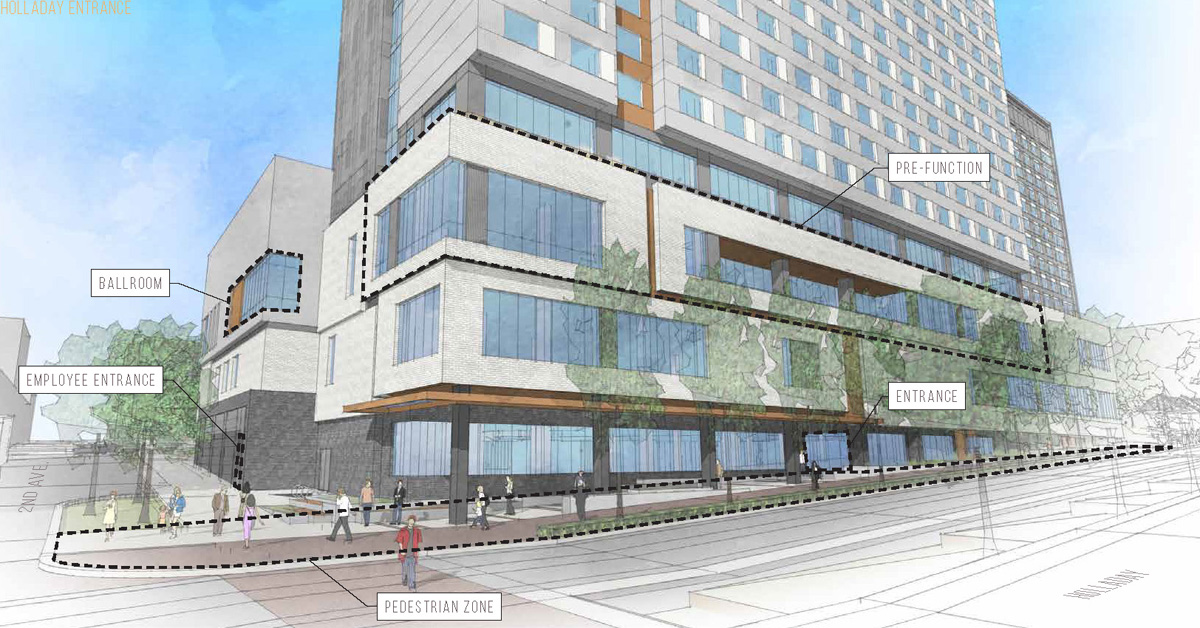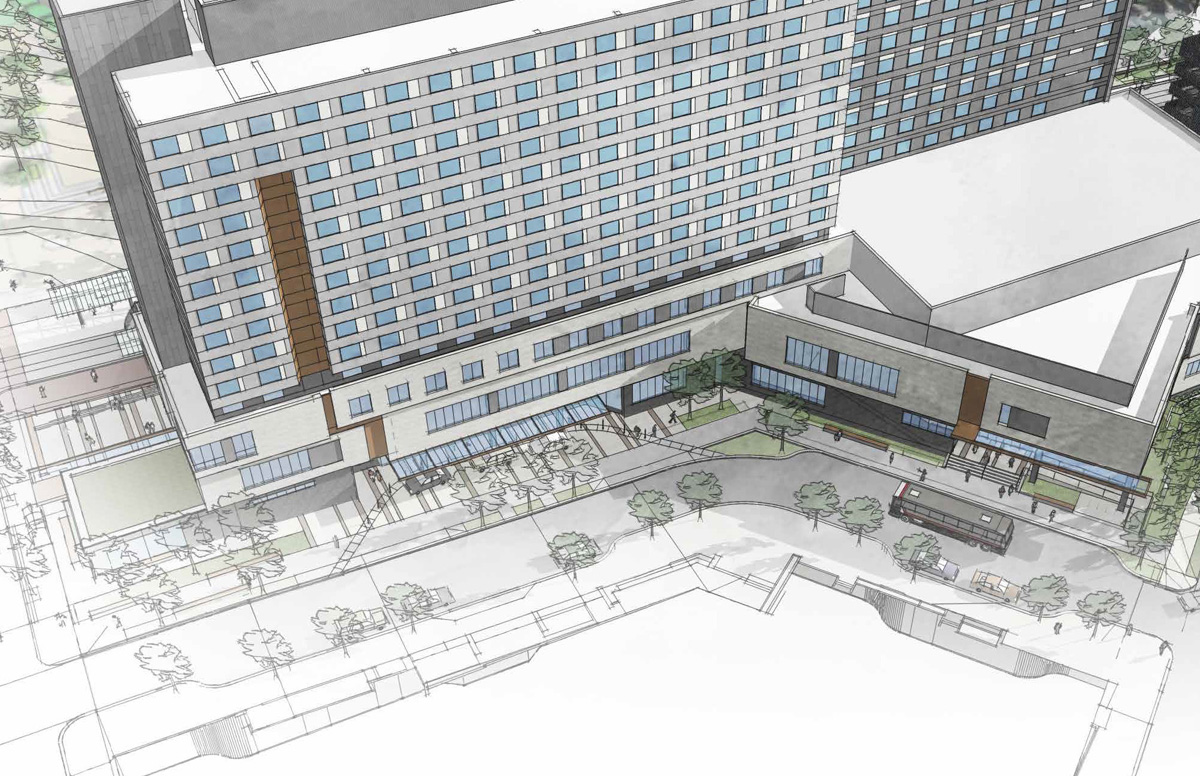 At the second hearing the Commission voiced strong reservations about the porte cochere design on NE Hassalo Place, which pushed pedestrians against the building to avoid the vehicular drop off traffic. At the most recent hearing this had been redesigned to create a continuos pedestrian path along the street, which was welcomed by the Commission as a significant improvement.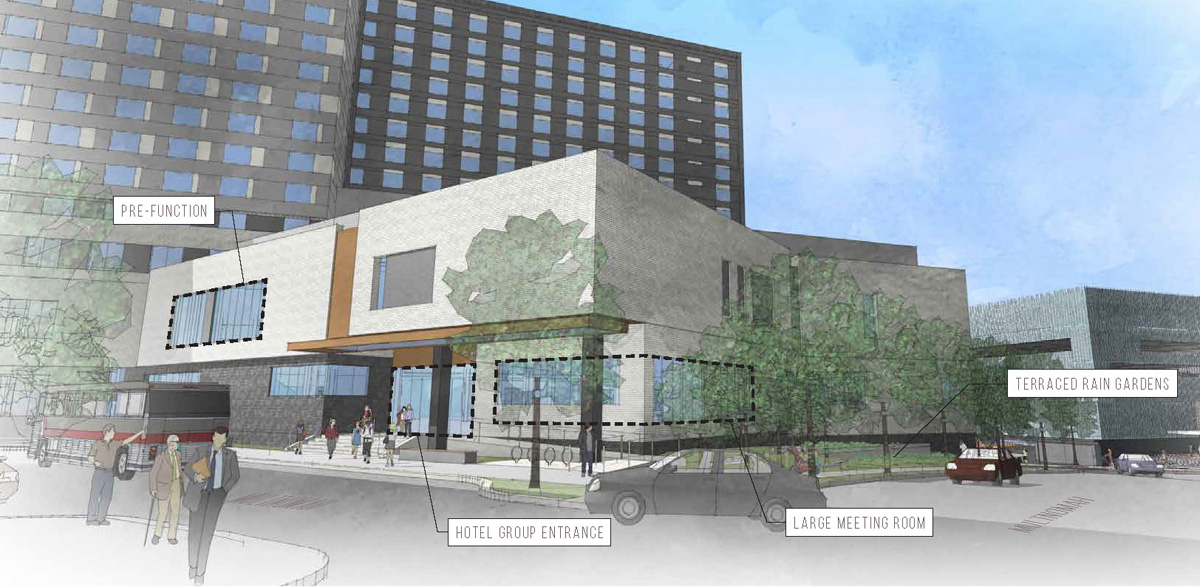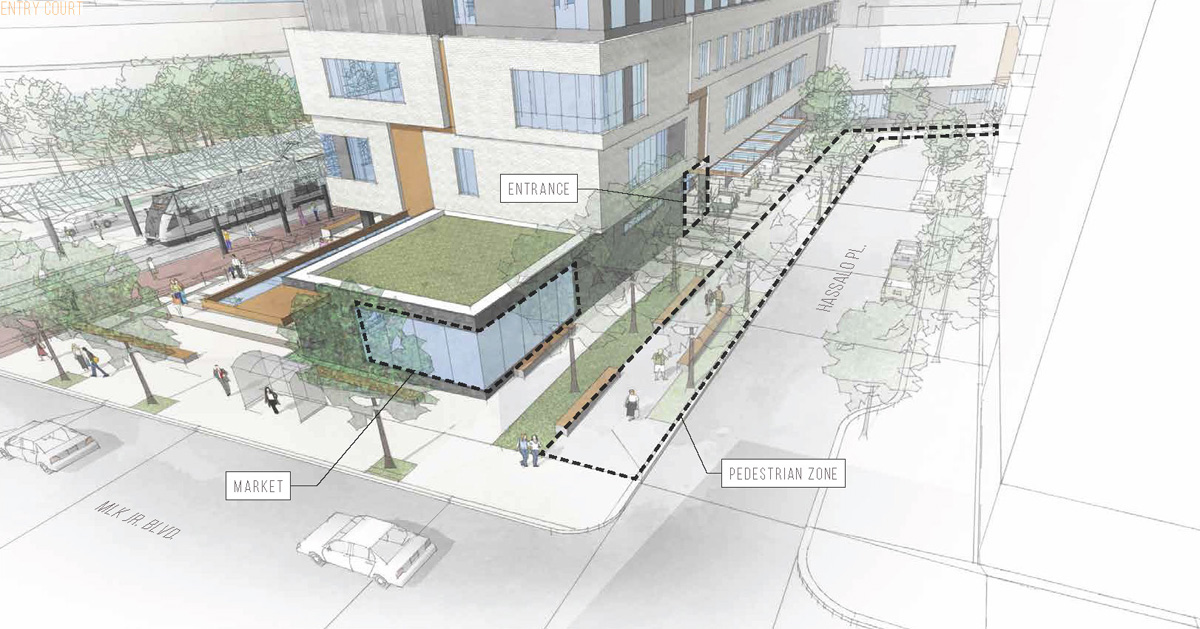 Parking garage
As part of the project, a parking garage will be built on Block 49, one block to the west of the hotel. The garage will include 385 vehicular spaces and ground floor retail uses. A significant amount of bike parking will also be provided, intended primarily for the use of hotel employees. The structure is being designed to accommodate a possible future office tower on NE Multnomah.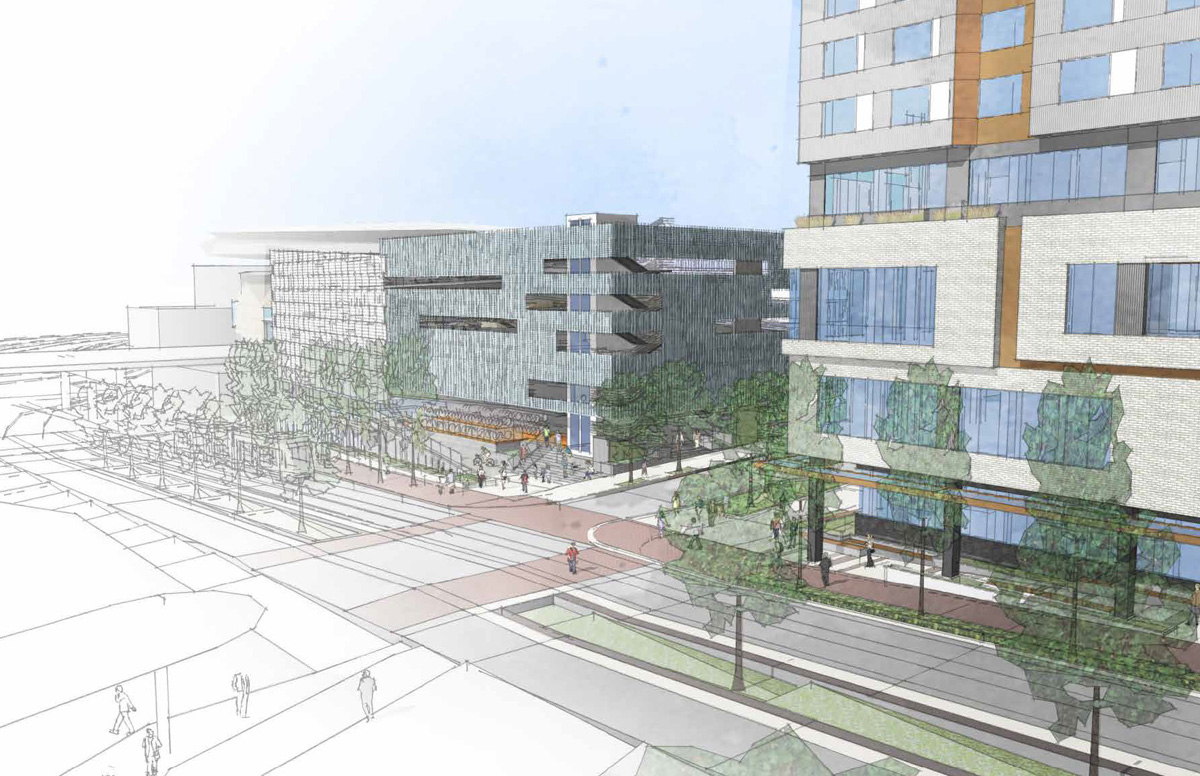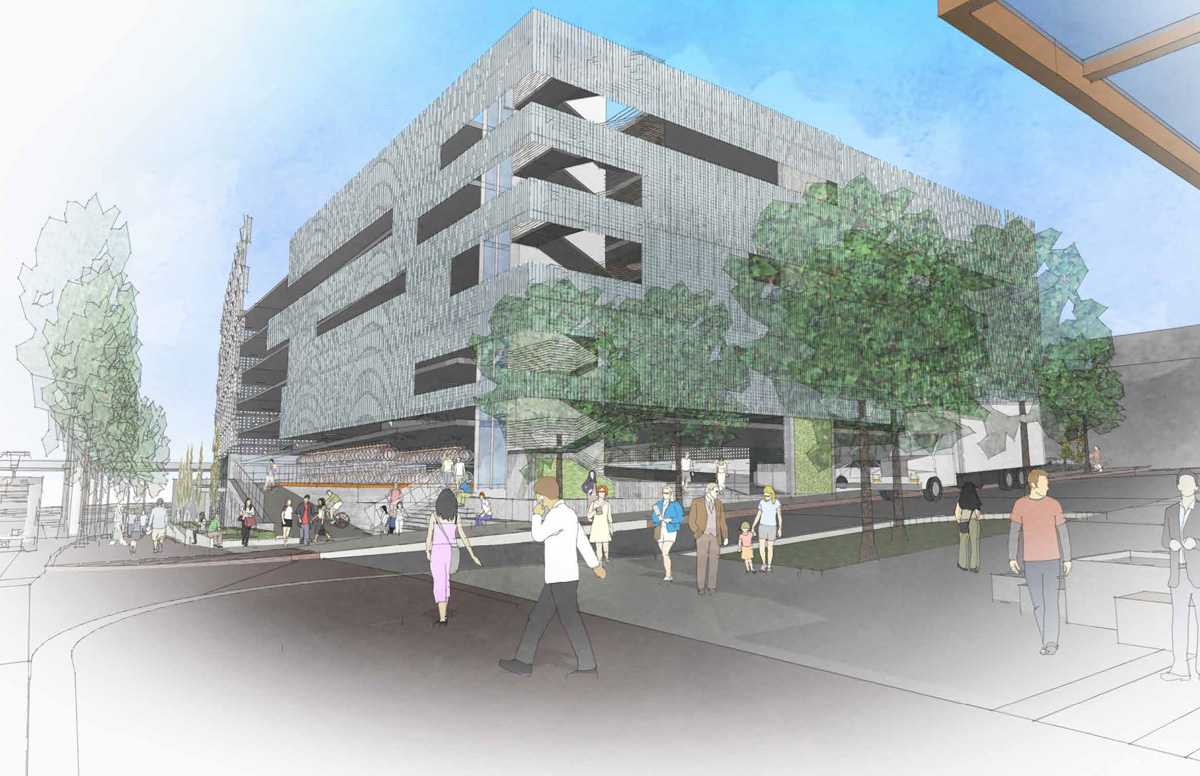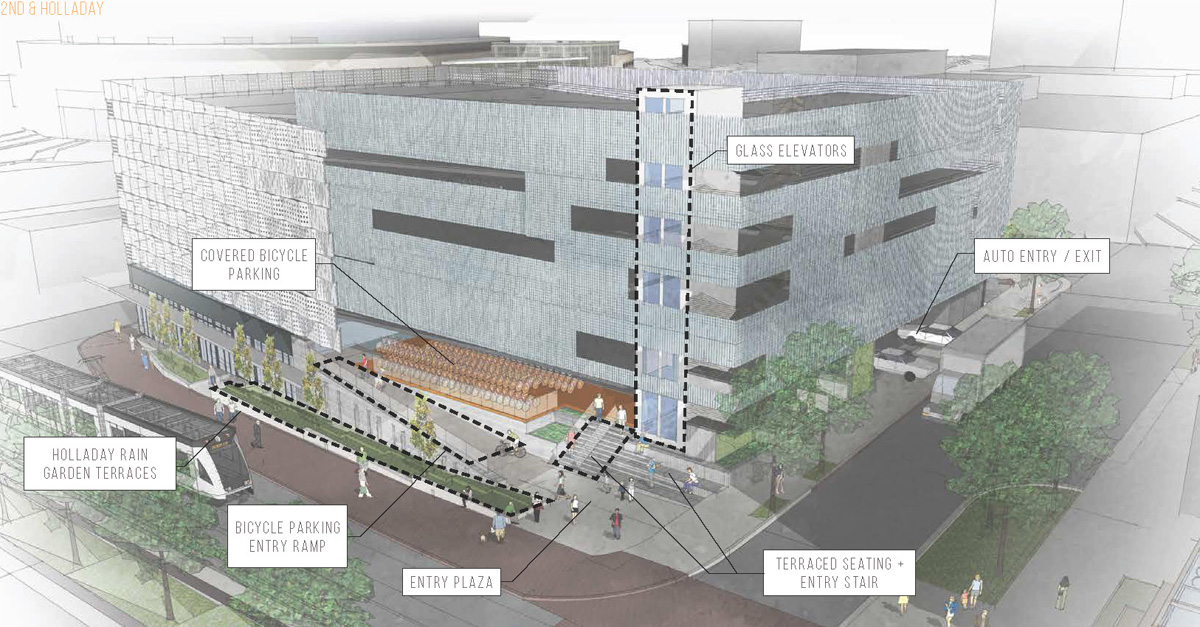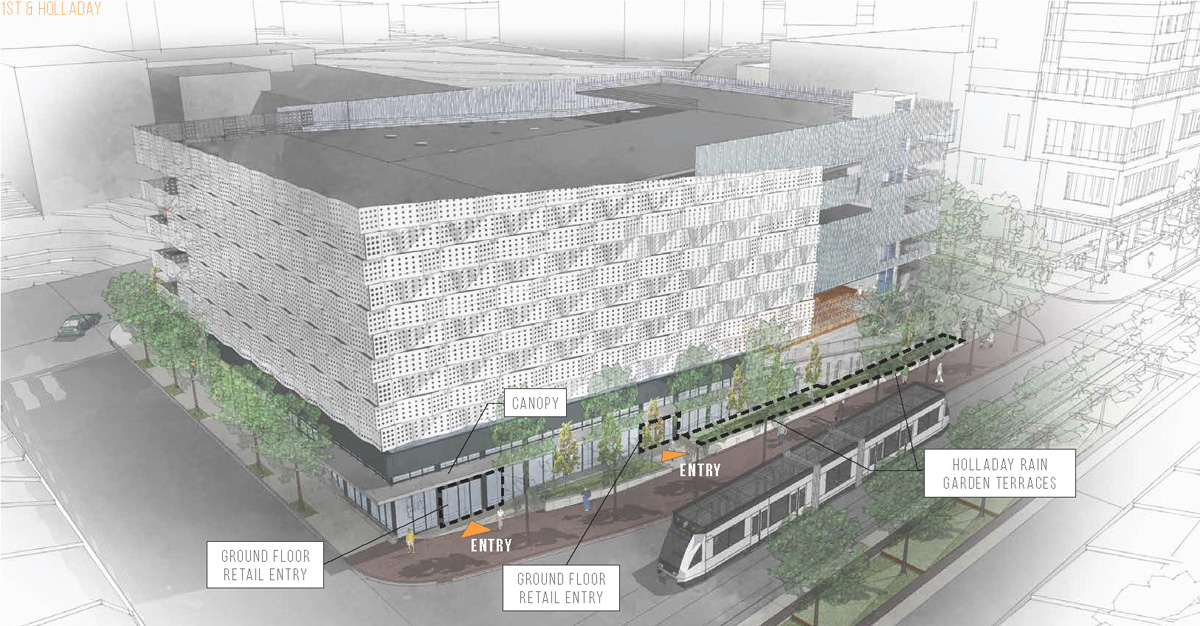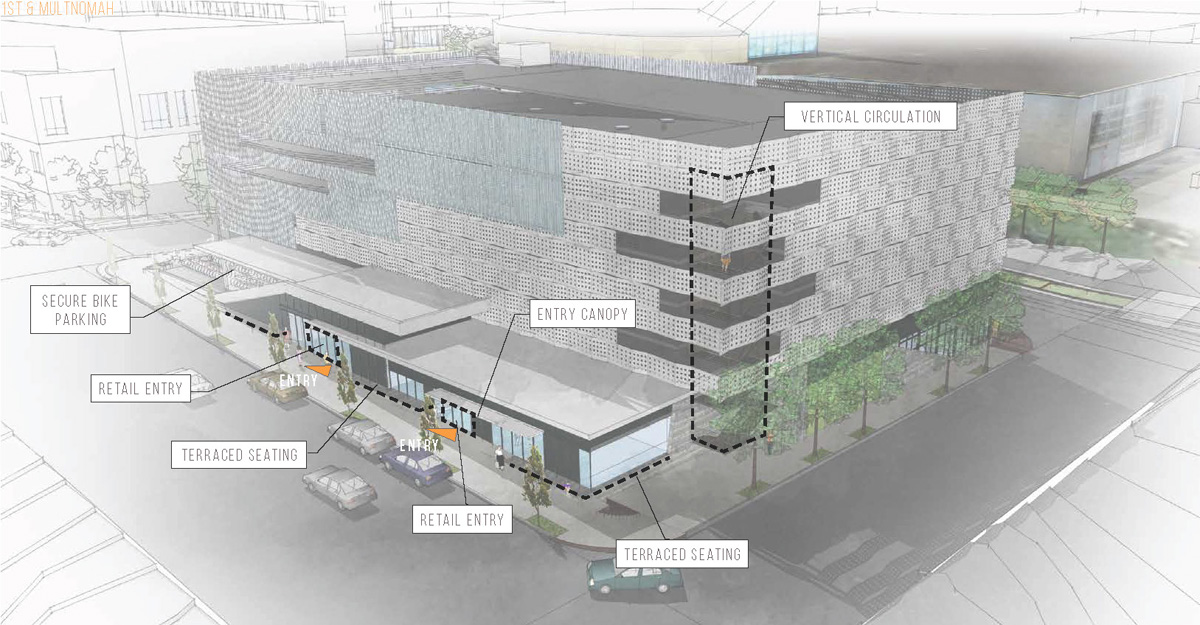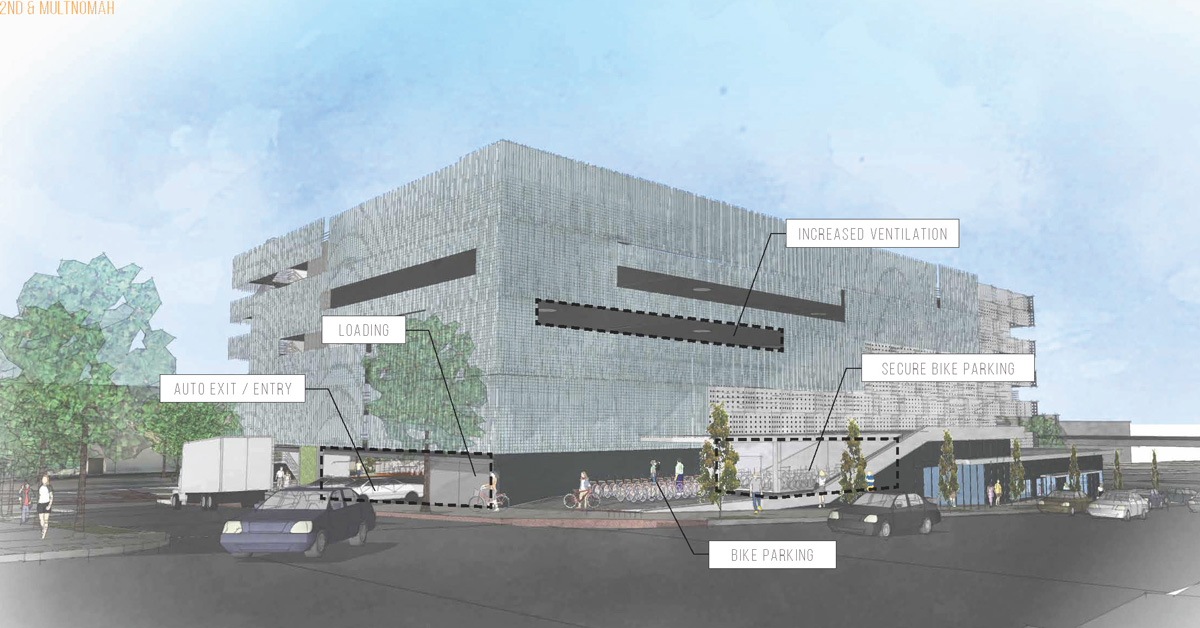 A memo [PDF] to the Design Commission, published prior to the hearing, noted that not much information has been provided on the overall quality, materials and details of the proposed hotel. The memo suggested a 4th Design Advice Request may prove beneficial prior to the applicant submitting for a Type III Design Review.
Plans