This post is the second in a series on Oregon Square, focusing on Block 91. See also Part I about the urban design and landscaping, Part III about Block 102, Part IV about Block 90 and Part V about Block 103.
With 160 units, Block 91 will be the smallest of the four buildings at Oregon Square, the giant Lloyd District development planned by American Assets Trust. The building by GBD Architects will rise to 132′-6″ over its 11 floors. 14,181 sq ft of double sided ground floor retail will open onto both the new square and the surrounding streets. Amenities for the residents, located on the 6th and 7th floors, will include a yoga room, a fitness room, a private dining room, a community room and a dog lounge.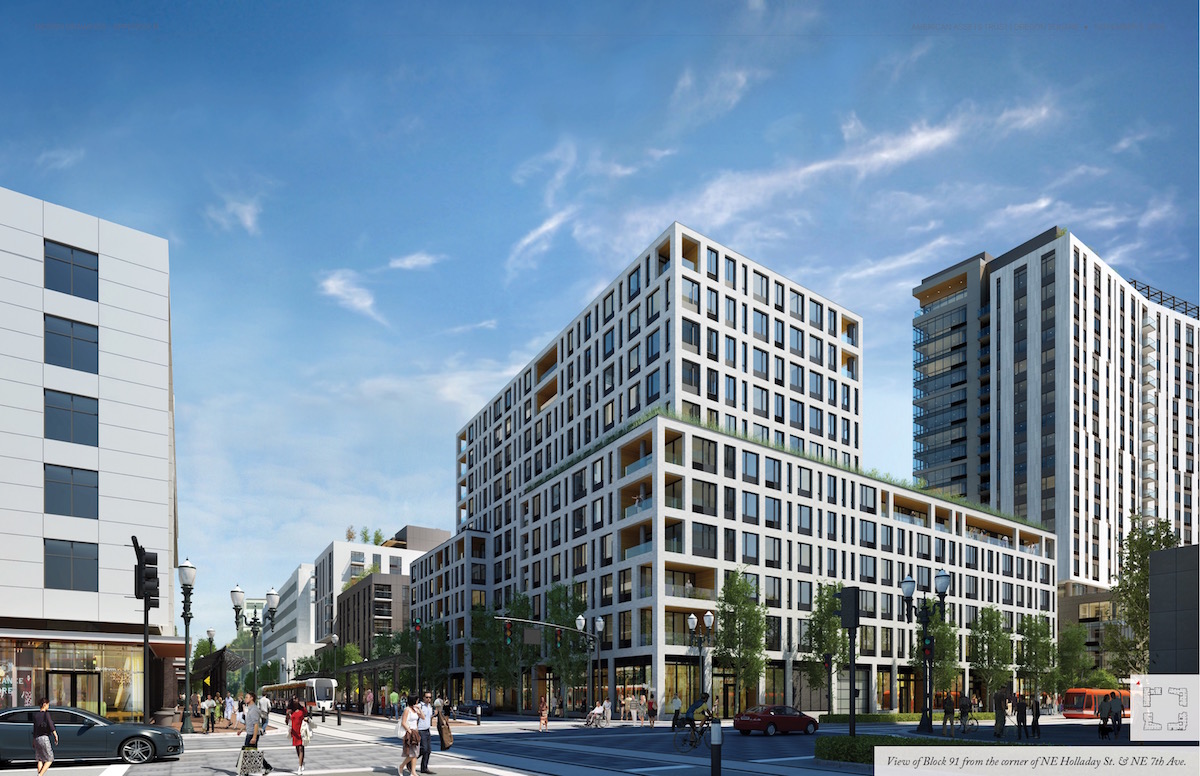 Block 91 will be located in the northwest corner of Oregon Square, directly across NE Holladay St from the NE 7th Ave MAX stop and the recently completed Velomor building at Hassalo on Eighth. The existing building on the site was built in 1950 by the Lloyd Corporation, who developed much of the property in the area.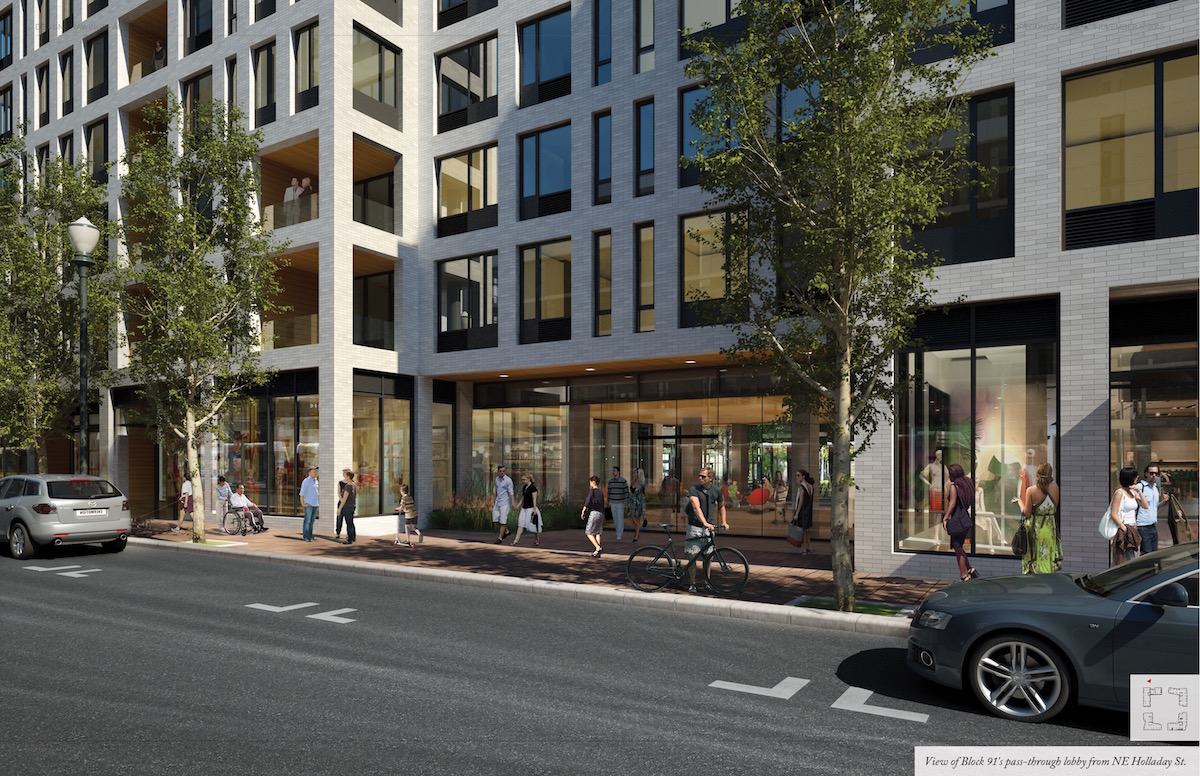 Block 91 is arranged with a 6 story L-shaped volume, which wraps around the square. A terrace at the 7th floor with landscaping by Place Studio will have stairs that connect directly down to the indoor amenity rooms at the 6th floor. A tower volume at the interior corner of the "L" will rise up to the 11th floor. At the top of the building an ecoroof will be planted with sedums.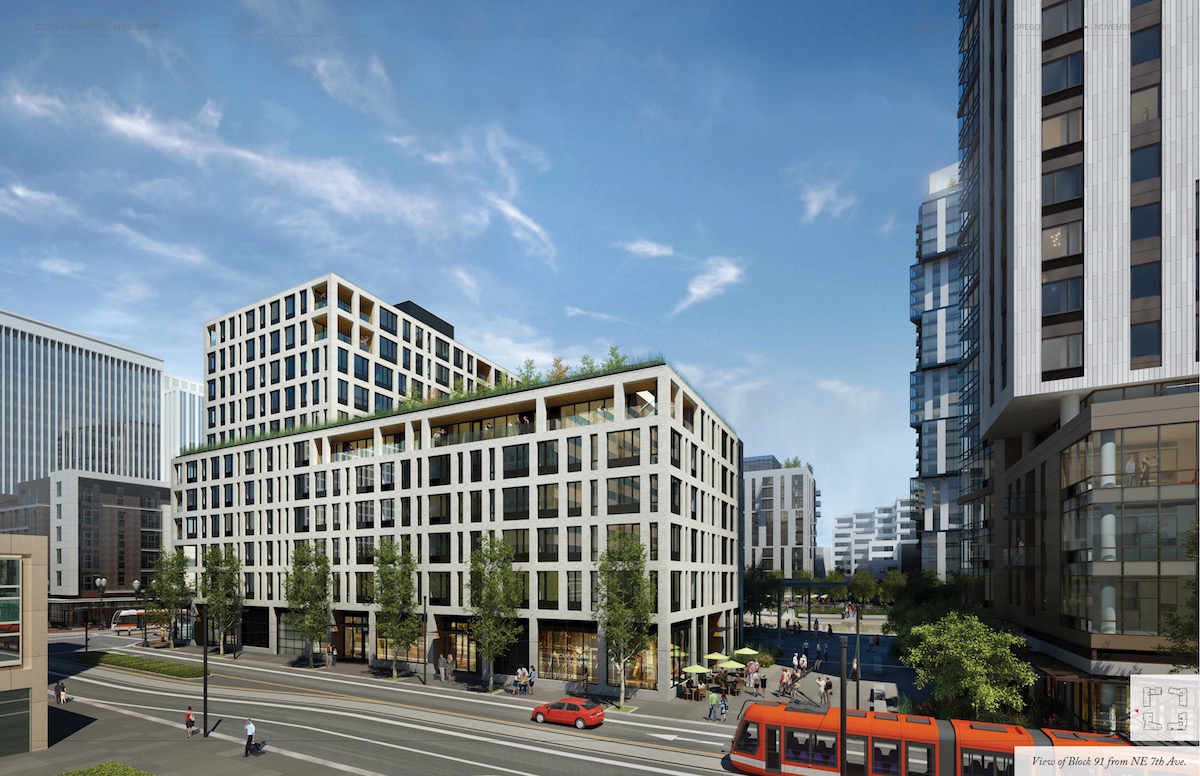 The primary exterior material for Block 91 will be a smooth white brick with a running bond coursing. Other materials will include smooth orange GFRC panels, ipe wood planks, weathered steel, glass guardrails and metal panels. Aluminum windows will be used both for the residential units for the ground floor storefront windows.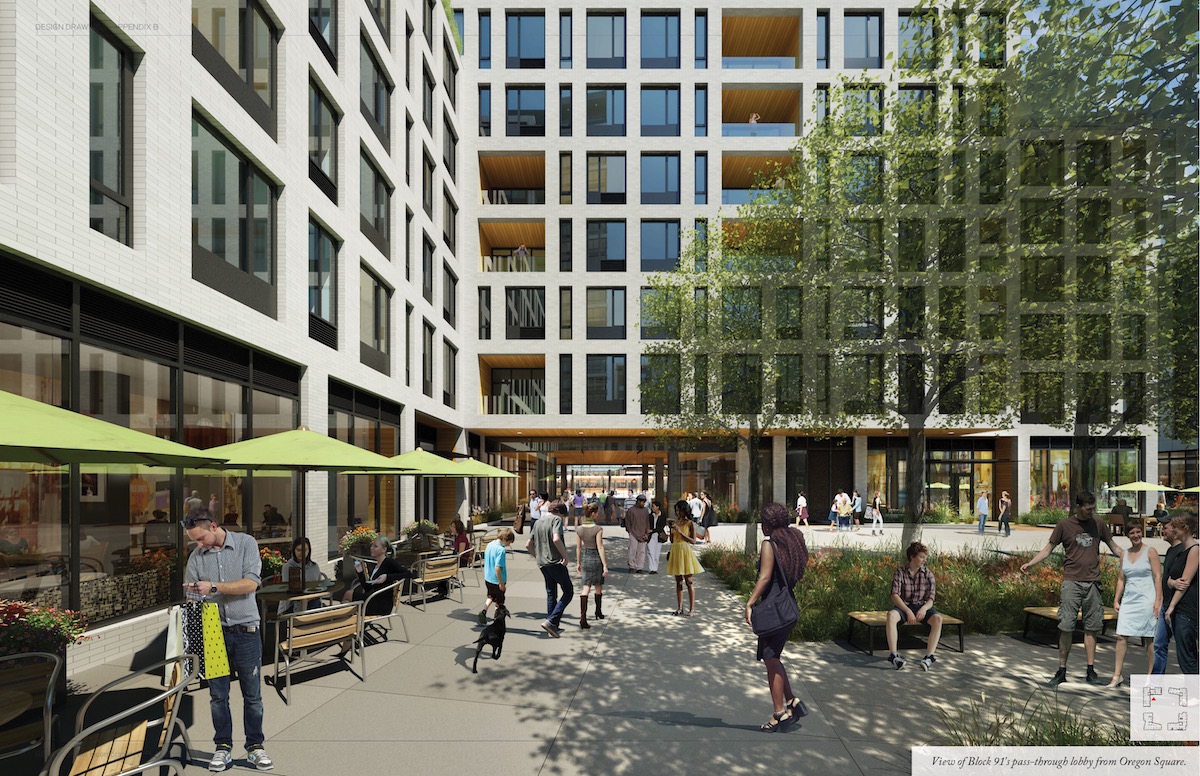 Of the four buildings proposed at Oregon Square, Block 91 drew the most consistent praise during the Design Review process. The building was noted in the Final Findings and Decision By The Design Commission [PDF] as being the "most successful [in the development] as it adheres to strong, rigorous rules and is the most reminiscent of buildings in the Lloyd district."
Building permits will need to be obtained before construction work can begin.
Plans, Elevations and Sections