After three Design Advice hearings and two Design Review hearings, the Historic Landmarks Commission has approved designs for a new Restoration Hardware building on NW 23rd Ave. The building by Ankrom Moisan Architects will be modeled on the store's 'Gallery' concept, where furniture is display in a series of linked rooms as they might be in a house. A grand staircase will rise through the three story building, up to an open air pavilion and roof terrace where outdoor furniture will be displayed. Below-grade parking for 18 vehicles will be provided.
The site at NW 23rd & Glisan is located in the Alphabet Historic District. Two low rise buildings, previously home to a Plaid Pantry and Sammy's Flowers, were recently demolished in anticipation of the project. The rest of the site was occupied by surface parking.
The primary exterior material for the building will be a grey cement stucco system, with inset aluminum clad wood windows. Secondary elements will include painted metal Juliet balconies and painted steel / glass awnings.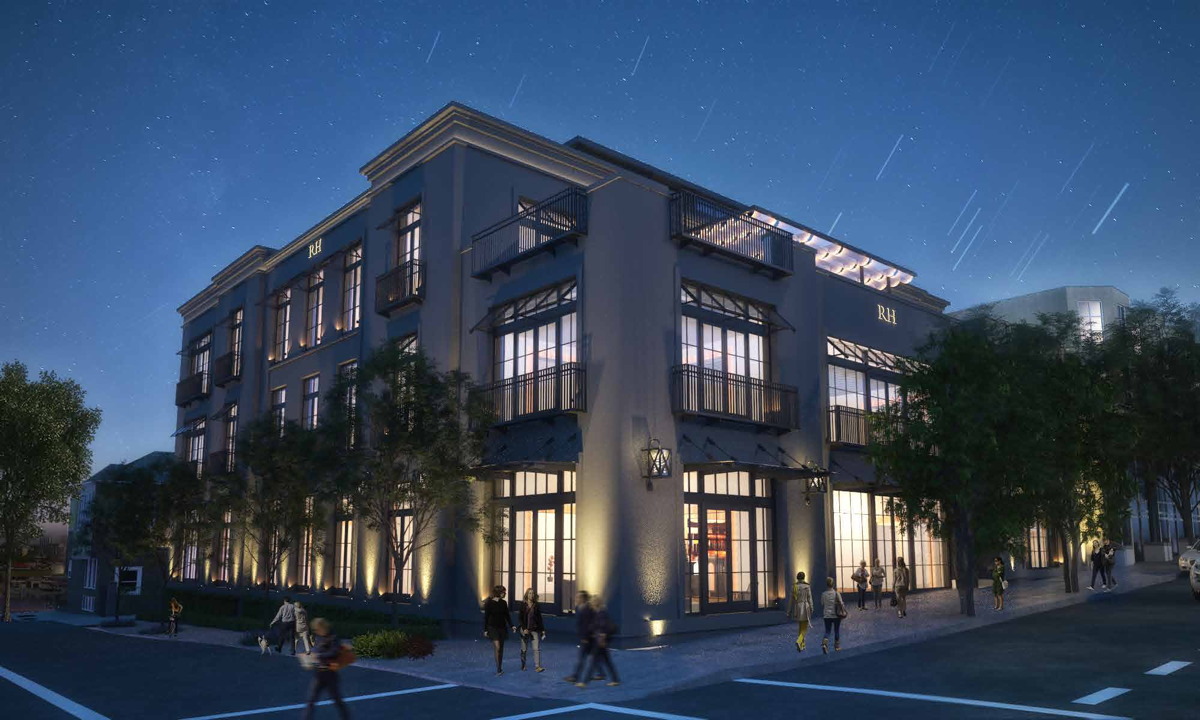 The project first went before the Historic Landmarks Commission for Design Advice (DAR) in April 2015, at which time the building had a series of multi story arched windows that the Commission felt too suggestive of a Palladian villa. When the project returned in June the arches had been eliminated, and a courtyard facing NW 23rd Ave introduced. The courtyard was shown as the preferred option at the project's third DAR in October, though an alternate scheme without the courtyard was also shown. The option without the courtyard was ultimately selected, in response to Commission worries that it would negatively impact the retail activity and pedestrian focus of NW 23rd Ave.
At the project's second Design Review hearing on January 25th 2016 the Commission unanimously voted to adopt the Staff Report [PDF], which concluded that the building will be "historically-compatible":
The proposed new three story—plus penthouse—retail building in the Historic Alphabet District and the Northwest Plan District will, with a handful of conditions of approval, contribute to the retail life of NW 23rd Avenue with historically-compatible materials and detailing on the new street-facing facades. The use of stucco as a primary material and the incorporation of large aluminum windows with clear glazing, thicker vertical mullions and stiles, and true muntin grids help to reinforce the district's historic character. The proposed glass canopies and awnings help to further articulate the facades without overwhelming its architecture while at the same time providing welcome new weather protection along the sidewalk on NW 23rd and a portion of NW Glisan. The proposed Modifications and Adjustment to the exterior display standard will preserve the historic character of the district and maintain the pedestrian and retail-oriented focus of NW 23rd Avenue.
Building permits will need to be obtained before construction can begin.
Plans, Elevations and Sections