A second Pre-Application Conference has been scheduled by SERA Architects to discuss a revised proposal for 505 NW 14th. As now envisioned the development would allow the historic Fire Station #3 to remain, a change from an earlier proposal that would have seen it demolished. The building is currently home to Touché Restaurant & Bar.
The project for Mill Creek Residential Trust has also significantly grown in size. The building would now reach 16 stories, and include 280 residential units, up from the 12 stories and 150 units proposed in April of this year. 222 vehicular parking spaces are proposed. Drawings show a 16 story bar tower oriented to NW 14th Ave, with a lower rise sidecar form wrapping around the fire station building. Building amenities are shown at level 6, including a club room, fitness center, rooftop terrace and spa.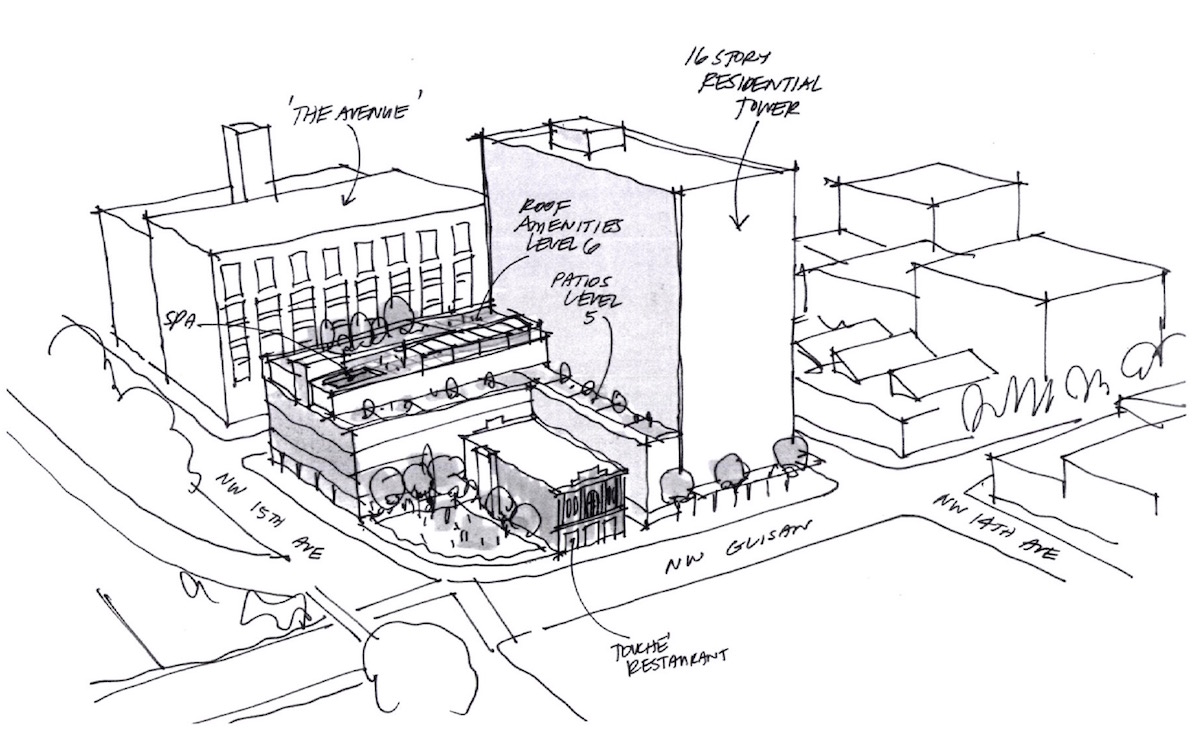 The site for the project is approximately three quarters of the block bound by NW Glisan St, 14th Ave, Hoyt St and 15th. The development would require the demolition of two buildings most recently occupied by Premier Press, who have since moved their operations to Swan Island. A project to convert and expand those two buildings into new office space was approved by the Design Commission in October, but was never submitted for building permit review. Other buildings on the site that would be removed include the 1939 service station, now occupied by Hawaiian Time, and a single story retail building most recently occupied by restaurant Le Bouchon.
Separately, a surface parking area on the block is likely to be developed into a parklet, in order to allow an FAR transfer to a proposed building across the street at 1430 NW Glisan.
The Pre-Application Conference [PDF] is scheduled for June 21st 2016 at 8:30 AM. The project will be required to go through a Type III Design Review, with public hearings before the Design Commission.
Drawings