The Design Commission has approved a mixed use building by SERA Architects at NW 17th and Kearney. The 6 story building for Holland Partner Group will contain 124 apartments (including 9 ground floor units), with 3,200 sq ft of retail space at the ground level. 68 parking stalls are proposed in one level of below grade parking, while long term storage for 139 bicycles will be provided. At the 6th floor a club room and roof terrace deck is proposed. Under the terms of a property tax exemption approved by the City Council in August, 20% of the project's unit will be affordable to those earning less than 80 percent of area median family income.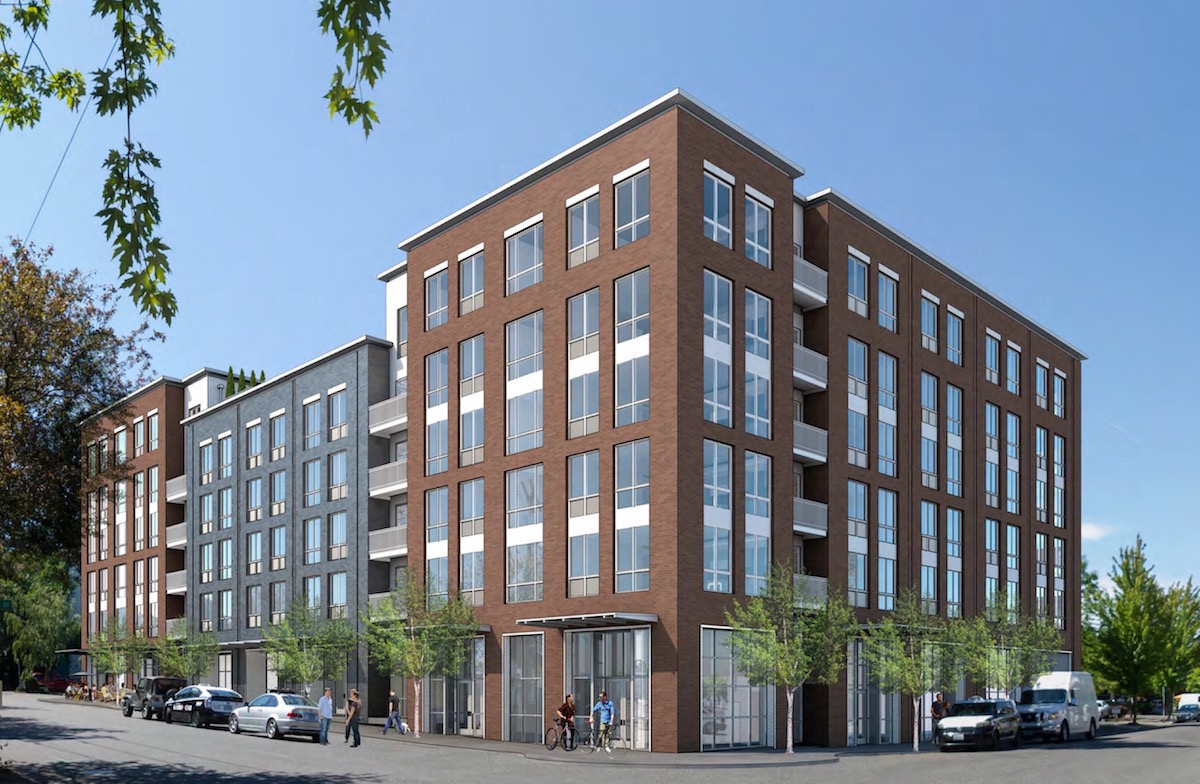 The roughly half-block site at 905 NW 17th Ave is currently occupied by a low rise light industrial building, built in 1931. The building is presently used by Ad-Mail, Inc, who will be relocating their business to another site in the metro area.
The building's mass will be broken into three primary volumes, intended to represent a modern interpretation of the brick apartment buildings found in the neighborhood. Two different colors of brick will be used, with a red brick on the outer two volumes and a black ironspot brick at the central mass. Other materials proposed include stucco at the interior block courtyard, vinyl windows, accent white brick, composite metal panels at the window spandrels and painted steel balconies.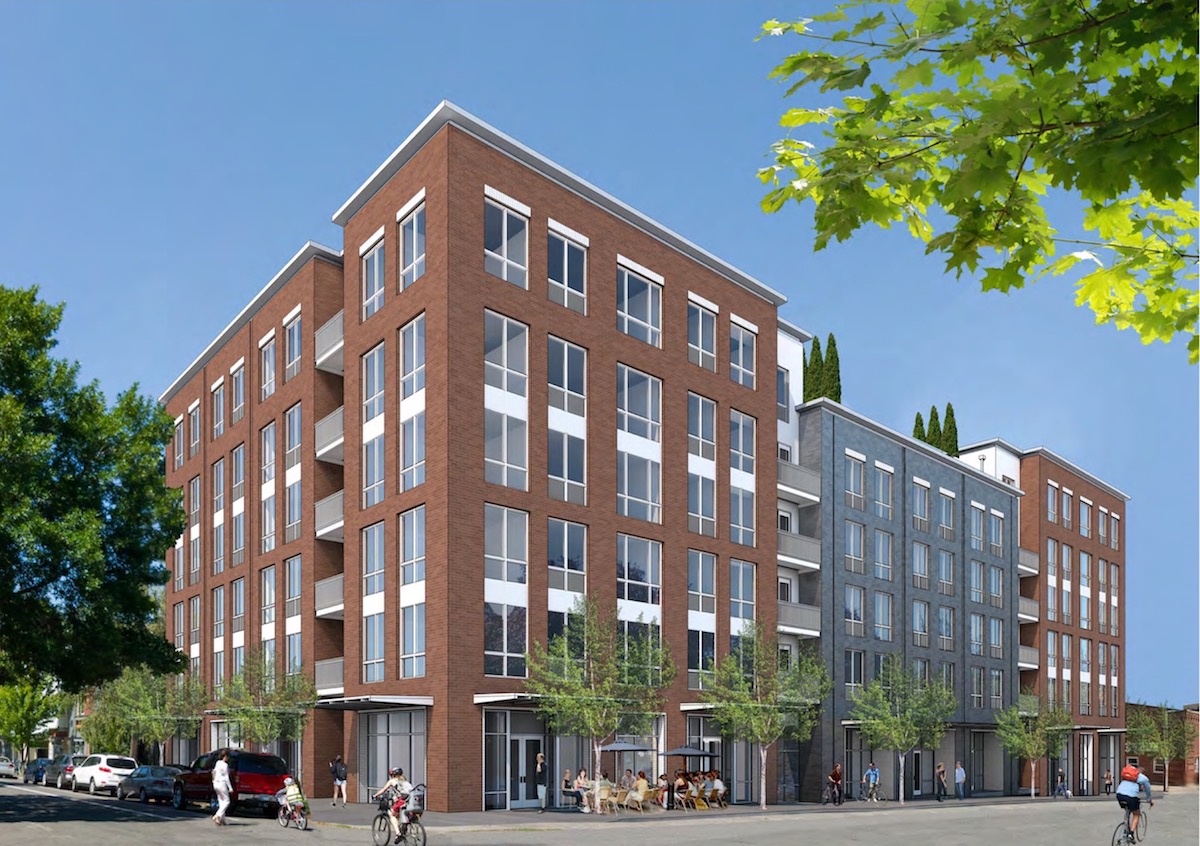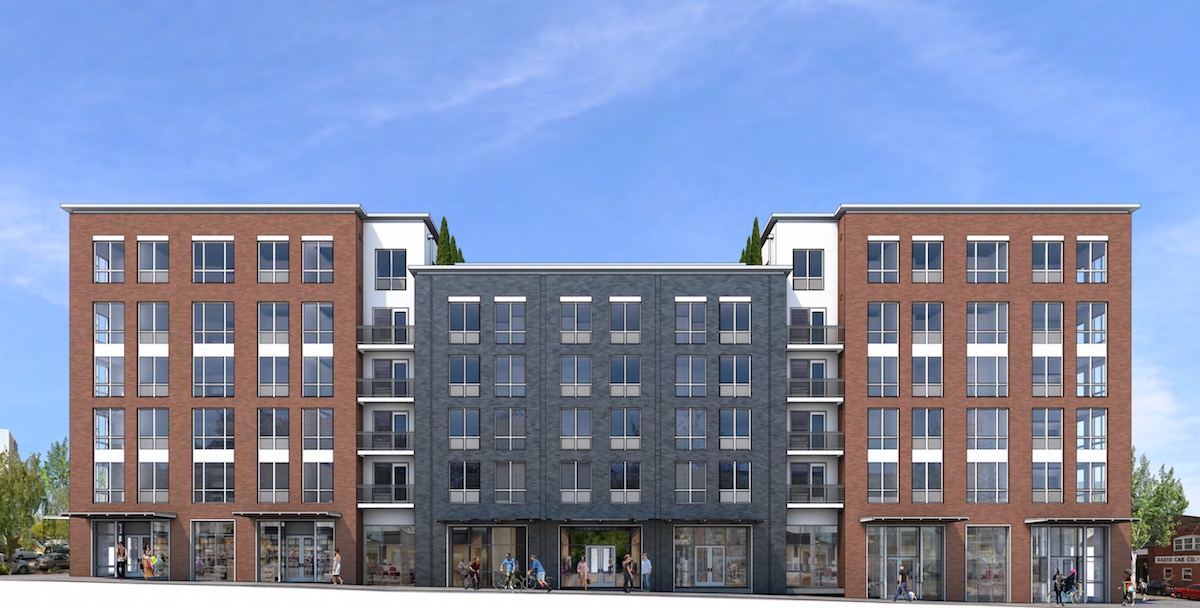 The NW 17th & Kearney Apartments were approved by the Design Commission at a hearing on November 3rd. The project had previously gone before the Commission to receive Design Advice in July 2016. While the overall program and massing remained unchanged from the earlier iteration of the building, changes were made to the ground floor and the composition of the windows at the upper floors. In the Final Findings and Decision by the Design Commission the project was praised for its contextual responses to the neighborhood:
This Northwest Plan District neighborhood is undergoing transformation at a rapid rate. The additional density provided by this project will meet many state- and city-wide livability goals for increased density and transit-oriented development. The project's contextual responses – multi-building massing, traditional materials and sidewalk activation are critical to the full and complete realization of genuinely humane neighborhood and will ensure a context-sensitive development that will be a welcome addition to the neighborhood.
Building permits will need to be obtained before work can begin on site.
Drawings