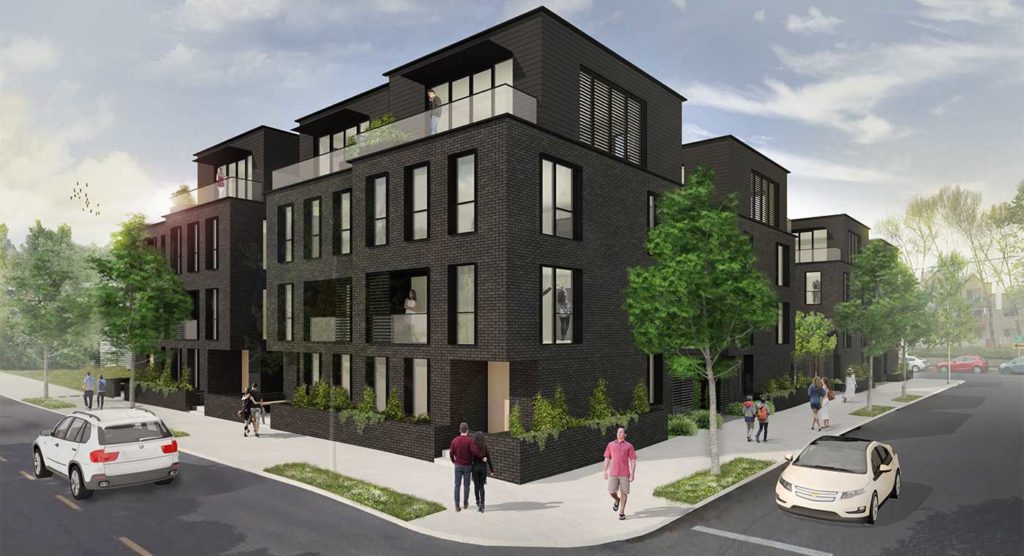 Every week, the Bureau of Development Services publishes lists of Early Assistance applications, Land Use Reviews and Building Permits processed in the previous week. We publish the highlights. This post covers July 15th to July 21st 2019.
Early Assistance has been requested by MWA Architects for a project at 12529 SE Powell Blvd:
New construction of approximately 160-180 affordable, multi-family apartments ranging in size between one bedroom and three bedroom. Development will include resident community room and support spaces along with site utilities, waste/recycling, auto parking, bike parking and play area.
A project at 3802 NE Martin Luther King Jr Blvd has been submitted for a Type II Design Review by William Kaven Architecture:
The proposed project is one of four buildings to be developed sequentially on four adjacent but separate lots that extend from the southeast corner of NE Martin Luther King Jr Boulevard and NE Failing Street south toward NE Beech Street. Modification to ground floor window and frontage standards for dwelling units. Modification for vertically hung bike rack spacing.
Building permits were issued to Fieldwork Design & Architecture for the NW 28th & Thurman Townhomes:
New 4 story 2 unit apartment building- with landscaping and site utilities

New 4 story 2 unit apartment building with landscaping and site utilities

New 4 story 2 unit apartment building – with landscaping and site utilities

New 4 story 2 unit apartment building with landscaping and site utilities
Building permits were issued for a project with two buildings at 8912 and 8922 N Kellogg St (previously 7433 N Chicago):
New three story 11 unit apartment building with shared cortyard (see 19115675CO)

New 12 unit three story apartment building with shared courtyard (see 19-115696-CO), includes associated sitework