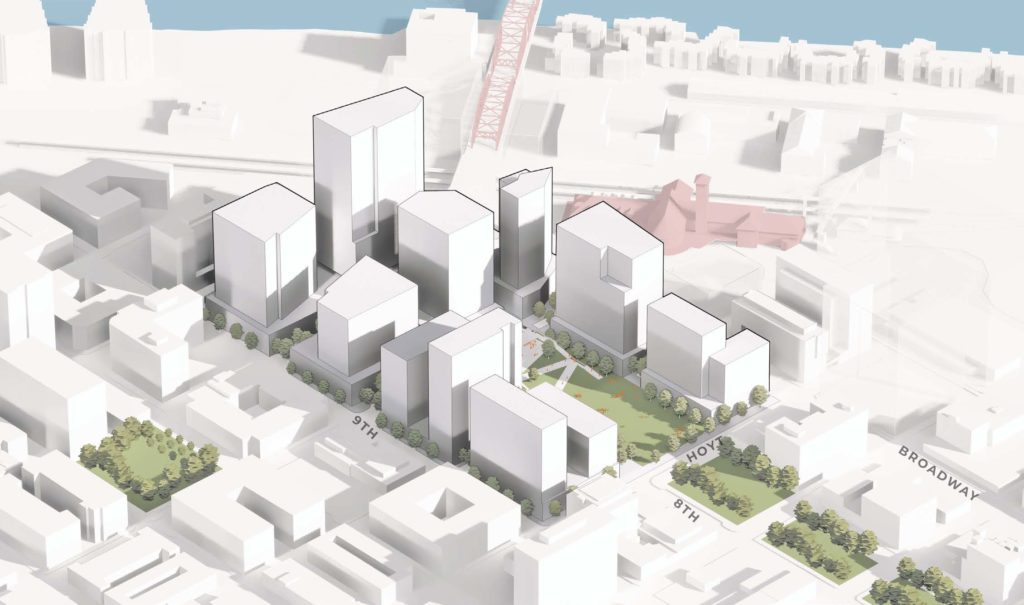 A masterplan for the Broadway Corridor went in front of the Design Commission last week. The Daily Journal of Commerce reported that Commissioners had questions* about the "buildings' podium heights, the curb-less Green Loop on the North Park Blocks and the arrangement of buildings on developable blocks."
Eater Portland took a look inside Masia, the "spacious new Spanish restaurant" from the team behind Ataula at the Hyatt Centric.
As one of their "reasons to love Portland right now" Willamette Week wrote about how street artists turned the former Sunshine Dairy into a temporary work of art. The building will ultimately be demolished to make way for the Dairy Apartments.
The Parallax Apartments at 4018 N Williams incorporates a mural by artist Tom Cramer, whose works was previously found on the warehouse located on the same site, reports the Business Tribune.
The Oregonian took a first look at the newest Green Zebra location, which has opened in the ground of Division Street Station at 2595 SE 50th Ave.
The sudden closure of Concordia University spells uncertainty for programs at the recently rebuilt Faubion Elementary School, reports the Oregonian.
An audit found that more than $200 million spent by Portland in Lents shows mixed results, reports the Oregonian.
The historic Jantzen Beach Carousel could find a home as part of the Portland Diamond Project, reports KATU.
*This article will be unlocked for the rest of this week. After this week it will only be viewable by DJC subscribers.