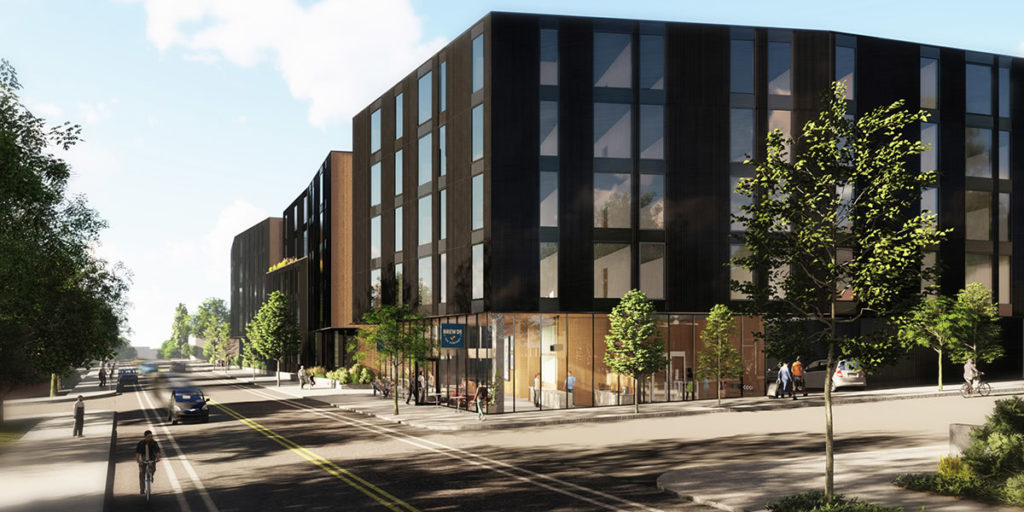 Every week, the Bureau of Development Services publishes lists of Early Assistance applications, Land Use Reviews and Building Permits processed in the previous week. We publish the highlights. This post covers June 28th, 2021 to July 4th, 2021.
A project at 550 SE Martin Luther King Jr Blvd has been submitted for a Type III Design Review by GBD Architects:
A new 7-story (5-over-2) mixed use, residential building with retail and parking. The basement consists of mechanical spaces and residential amenities (bike parking and fitness), the ground floor consists of building services, residential lobby, a garage with semi-automated parking stackers and future commercial/retail use core and shell spaces. Floors 2-7 consist of 132 apartments. Amenity spaces are provided at the ground floor. The building has a vegetated roof system. Two modifications are being requested: one to ground floor windows in the EX zone (33.140.230) and one to the ground floor active uses (33.510.225).
A project at SW 37th and Capitol Highway has been submitted for building permit review by Convergence Architecture:
PDOX PS – construct new 3 story 12 unit apartment building with commercial tenant space on main floor: associated site work
A project West of 4937 SE Woodstock Blvd has been submitted for building permit review by Leeka Architecture:
Single PDF – new church building, parking lot, and associated site work. w/ 21-060487-CO for trash enclosure
A project at 2202 E Burnside St has been submitted for building permit review:
22ND/BURNSIDE MIXED USE – New mixed-use multi-family structure, V-A/I-A, 119 units, 50 parking spaces, 3,3734 SF commercial shell space.** Review w. 21-057497-MT. Demolition of existing structures NOT included with this submittal.
A project at 6825 SW 45th Ave has been submitted for building permit review"
New 4 story, 121 unit apartment building with basement parking and associated site work w/21-056456-MT
A building permit was issued to Hacker for the brookLAND apartments at 4225 SE Milwaukie Ave:
New 5 story residential building to include 166 residential units and level 1 having multi family and commercial use and partially below grade parking. w/19- 255748-MT
A building permit was issued for a project at 1525 N Humboldt St:
New 16 unit apartment building, 4 stories, associated site work. ***w/ 19-207947-MT***