Construction has started on Riverscape Lot 8, a 250-unit apartment complex on the waterfront north of the Fremont Bridge. The project is comprised of two buildings above a parking garage with 200 vehicle spaces. The building closet to the river will be 'C' shaped in plan, with a courtyard facing the river. The other building is arranged as a bar facing onto NW Front Ave. The project design is by SERA Architects with Shapiro Didway landscape architects. The developer is Las Vegas based Fore Property Company, who are also behind the adjacent Waterline Apartments.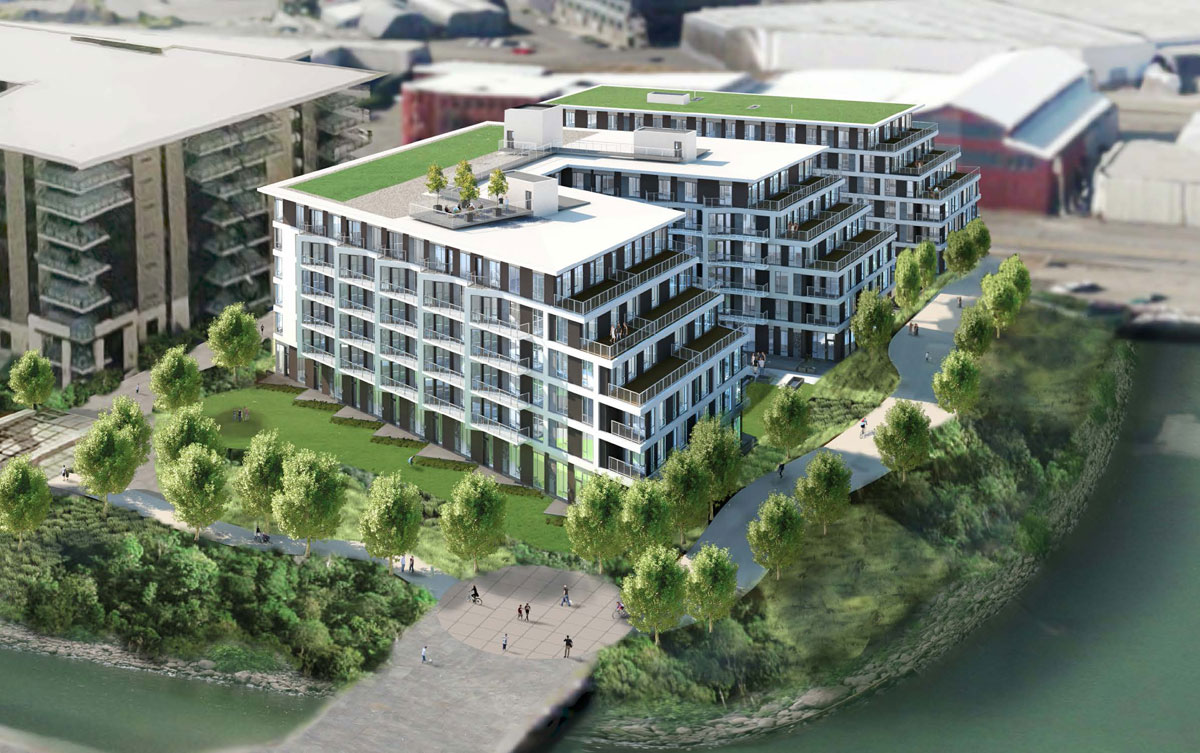 The site, seen below in 2011, is the former location of the Port of Portland Terminal One South. In recent years the site has been used for construction staging, but has been otherwise vacant since the Riverscape development began in the 2000s. When the Riverscape Lot 8 apartments are completed a new section of the publicly accessible riverfront greenway will be added to the north and east sides of the buildings.
Exterior materials will include include stucco, metal panels, vinyl windows, wood accents and cable rail balconies. The northern edges of the two 6 story buildings are eroded towards the river, with the roofs of one unit becoming a terrace for the unit above.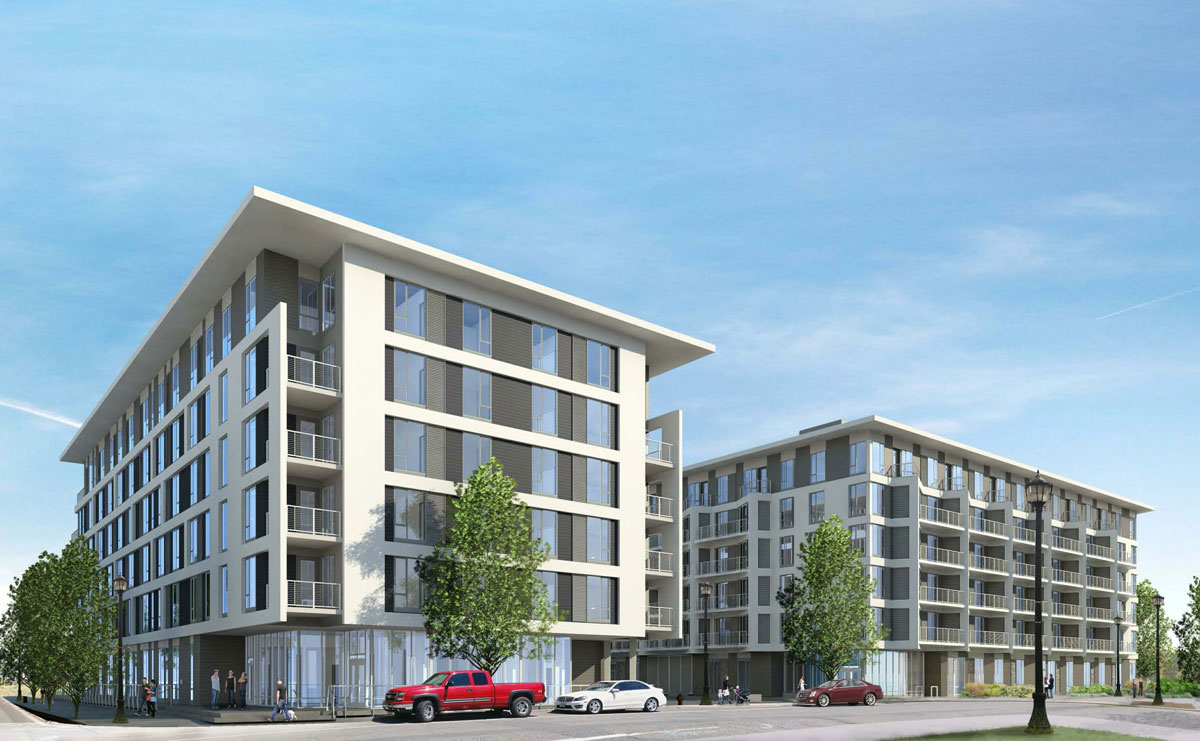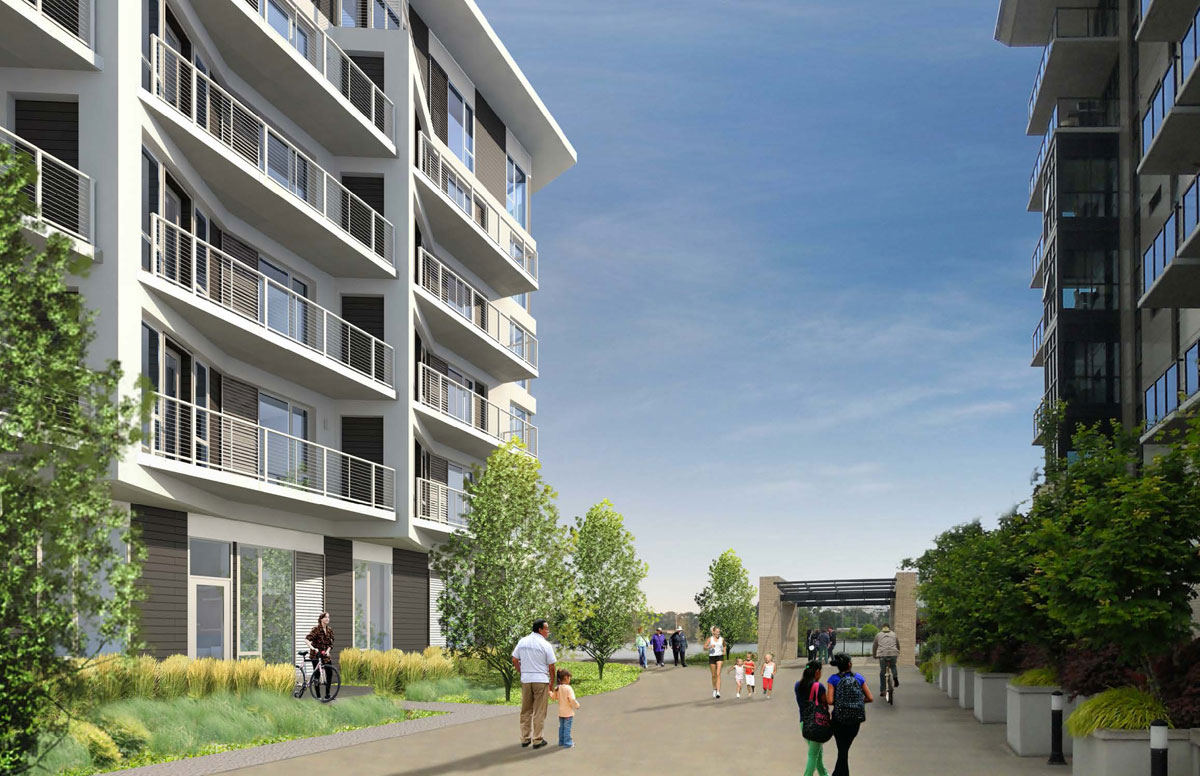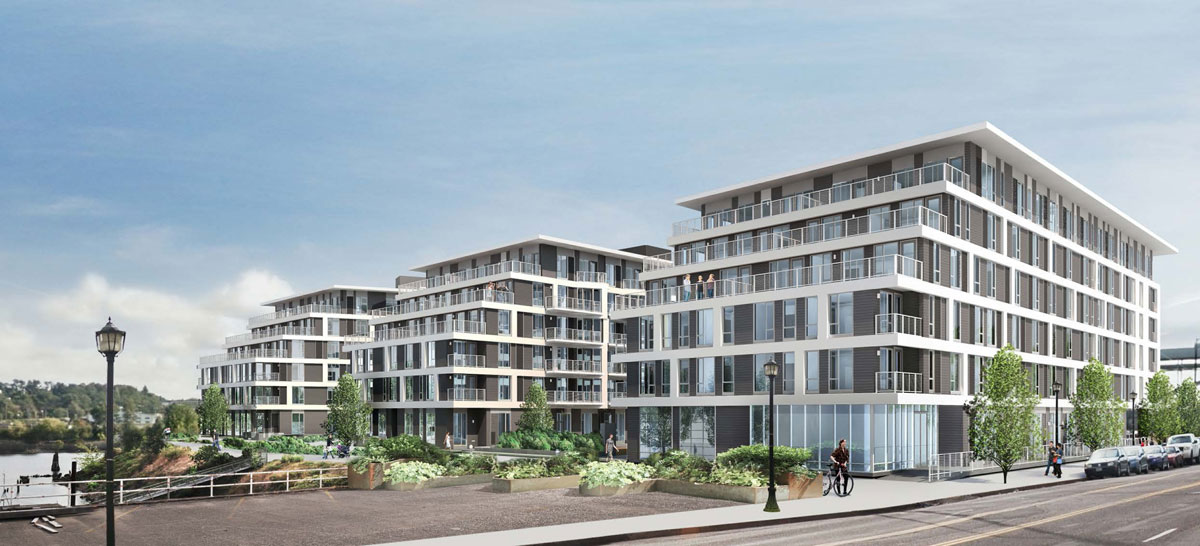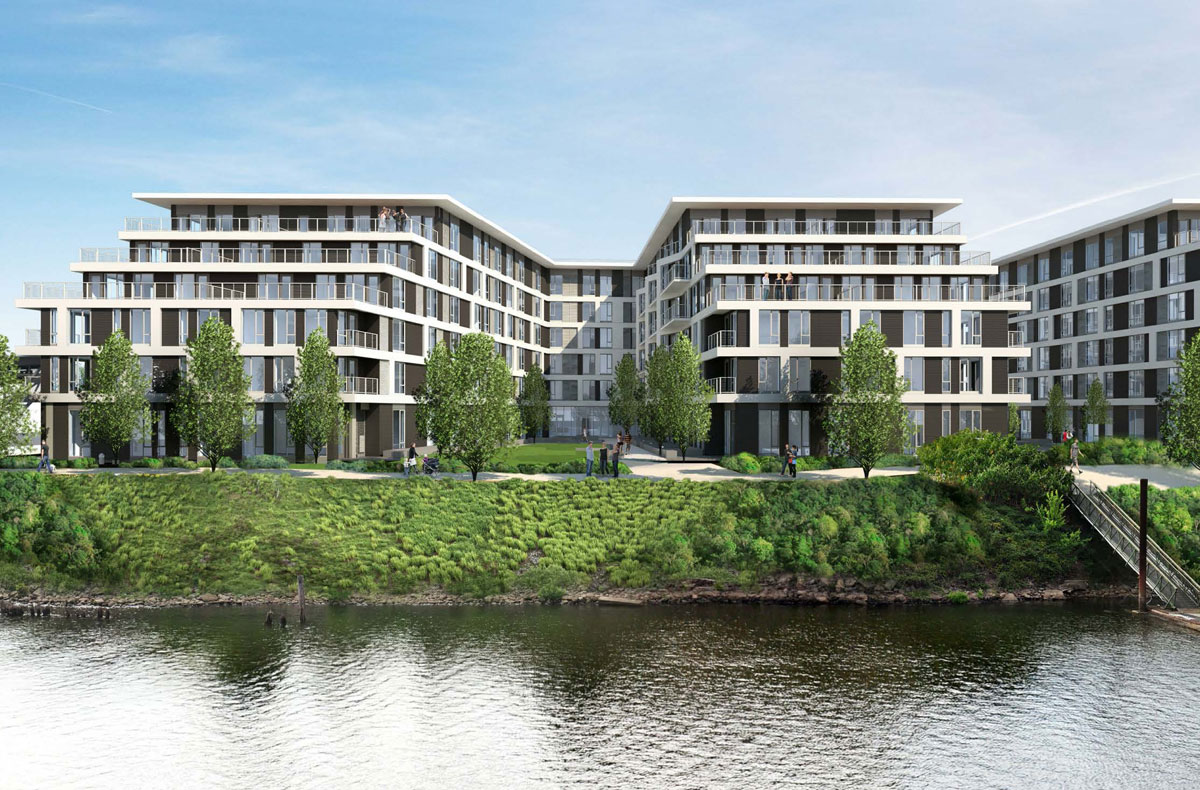 The project was approved through a Type III Design Review in November 2014. The Final Findings And Decision By The Design Commission [PDF]  concluded the project warranted approval:
The applicant has proposed a new 250-unit apartment project on a significant riverfront site at the north edge of the Riverscape neighborhood. The building design employs a ship-like, stepped massing with a distinct waterfront character. The applicant has been very responsive to Design Commission concerns regarding the exterior materials and design character of the buildings, about the layout of the Greenway Trails, and about the design and function of the street-like at-grade parking area. Additional changes were made to increase direct unit access to the outdoors at ground level, to expand the retail space along NW Front Avenue, and to improve the ground floor experience on the south side abutting the Pacifica Condominiums.
Design-related conditions of approval are necessary to ensure that electrical equipment stays below grade as intended, and that the prohibited rooftop movie screen not be installed. Greenway-related conditions are necessary to ensure that use restrictions, planting requirements, and trail standards are met per City Code. Finally, a condition of approval ensuring long-term access to the adjacent pier is also necessary. With these noted conditions of approval, the request is able to meet the applicable guidelines and criteria and should be approved.
A structural permit for the construction of the concrete structure from the mat slab through the level 2 concrete podium was issued in March 2015, with work on site beginning shortly afterwards.
Plans and Elevations