A ceremonial groundbreaking was held on Wednesday for the AC Hotel, a new hotel in Downtown Portland by SERA Architects and Minneapolis based developer Mortenson. The hotel will operated by Sage Hospitality, and marketed under the Marriott owned brand AC Hotels. The 130' tall building will include 204 rooms. At the ground floor the hotel will include a bar, lounge, lobby and breakfast room. Meeting rooms, a fitness center and most of the back of house areas are located in a single below grade level.  No on-site parking is proposed, however valet drop will be provided at the curbside.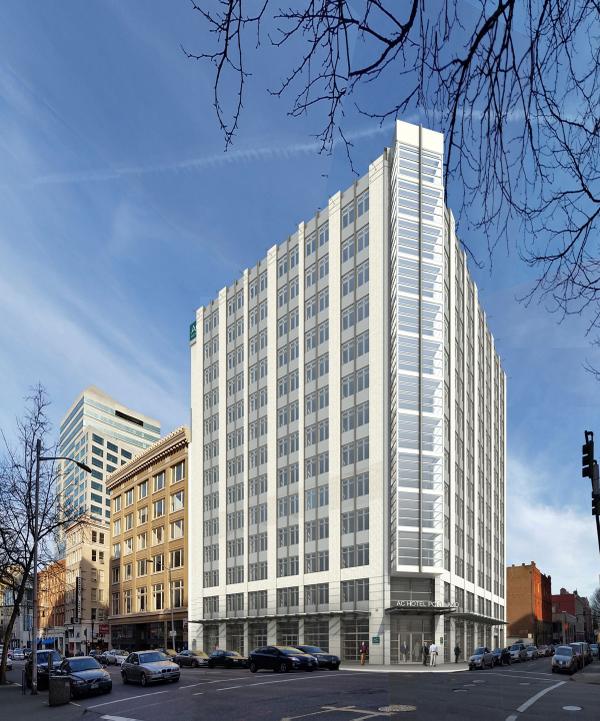 The project is located on a quarter block site at SW Third & Taylor. The Portland Development Commission acquired the site in August 1999, and demolished a dilapidated two-story building in 2000. The PDC board voted in September 2014 to sell the property to Mortenson for $2.5 million.
The AC Hotel is one of a number of hotels planned for central Portland. The Hyatt Regency at the Convention Center, the Cornelius-Woodlark and the Canopy by Hilton are at various stages of the Design Review process, while building permits are under review for The Porter, the Hampton Inn & Suites and the NW Portland Hostel. The Society Hotel and the Riverplace Hyatt House are currently under construction. The former Oregon Pioneer Building is currently being converted into the Hi-Lo Hotel, which will also be a part of the Marriott family.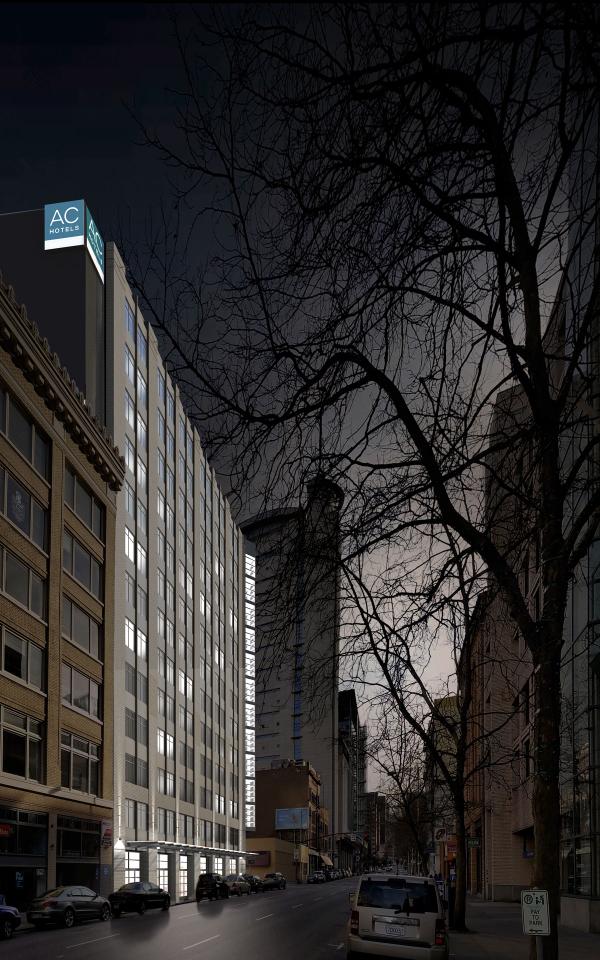 The AC Hotel was approved through a Type III Design Review on March 5th 2015, with a condition that the dark grey brick originally shown be changed to a tan colored brick. In the Final Findings and Decision by the Design Commission [PDF] the project was found to make a "significant contribution" to the central city:
The design review process exists to promote the conservation, enhancement, and continued vitality of areas of the City with special scenic, architectural, or cultural value. By emphasizing verticality, the building reinforces the architectural significance of the corner site as an informal gateway to the Yamhill Historic District. In addition, the coherent singularity of the two street-facing elevations is an appropriate response to the relatively compressed frontage of the 1⁄4-block site. Along with the high-quality masonry, metal and glass skin and vibrant layering in the façade, the building represents a significant contribution to the architectural character of the central city. The ground floor of the building supports active uses along the sidewalk, and a strong relationship is maintained between the design of the tower and the ground floor, as vertical elements of the tower are carried to the ground. The proposal meets and in some cases exceeds the applicable design guidelines and therefore, with conditions of approval, warrants approval.
Building permits for the project remain under review, though are likely to be issued soon.
Plans and Elevations