This post is an updated version of a post originally published on November 13th 2015.
Construction is underway on Blocks 294E and 295E at the north end of the Northwest District. The buildings by GBD Architects and Jones Architecture respectively, for developer Cairn Pacific, will include 385 residential apartment units and nearly 20,000 sq ft of ground level retail space. An underground garage stretching below both blocks will include 600 car parking spaces. Half of the parking spaces are a replacement for existing XPO Logistics (formerly Con-way) employee parking. Parking for 553 bikes will be provided.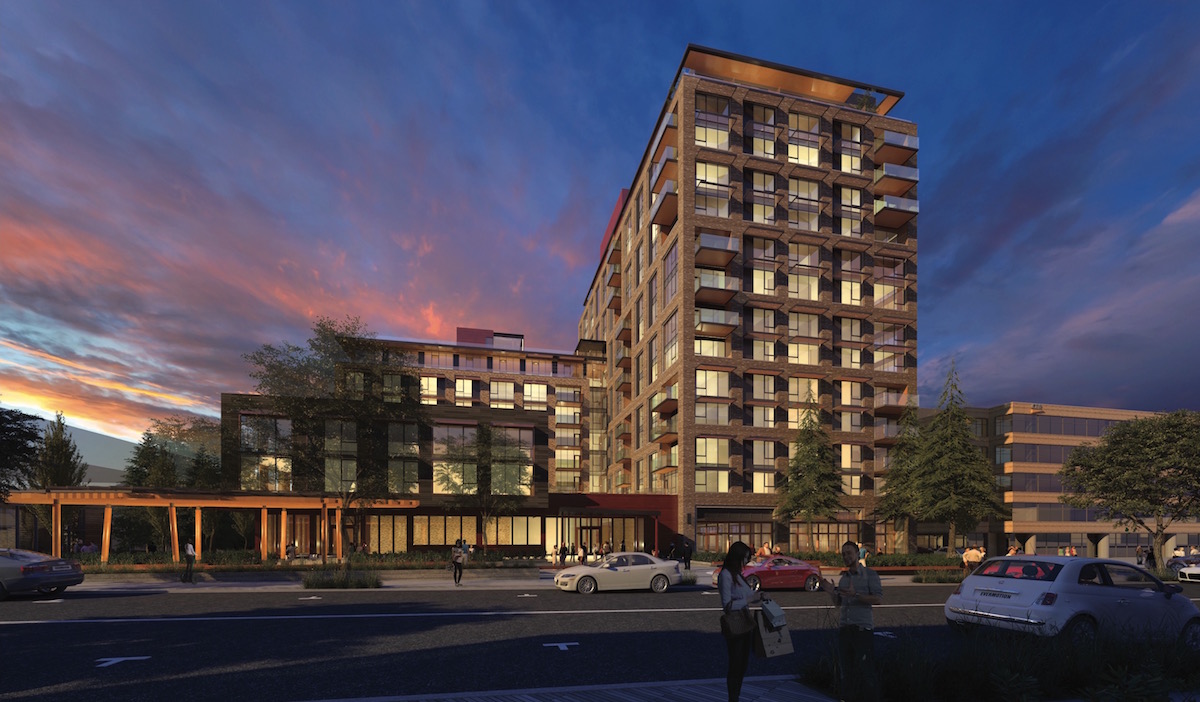 The project is located at 1621 and 1717 NW 21st Ave, on land until recently used as surface parking for XPO Logistics (formerly Con-way) employees. The two proposed buildings are required to comply with standards of the Con-way Masterplan, which was approved in 2012. On the western half of Block 295 is the Leland James Center, a renovation of which the Design Commission approved last year. To the south is the recently completed LL Hawkins and Slabtown Marketplace on Block 296. As required by the Con-way Masterplan, a pedestrian accessway will extend through the redevelopment site at mid-block.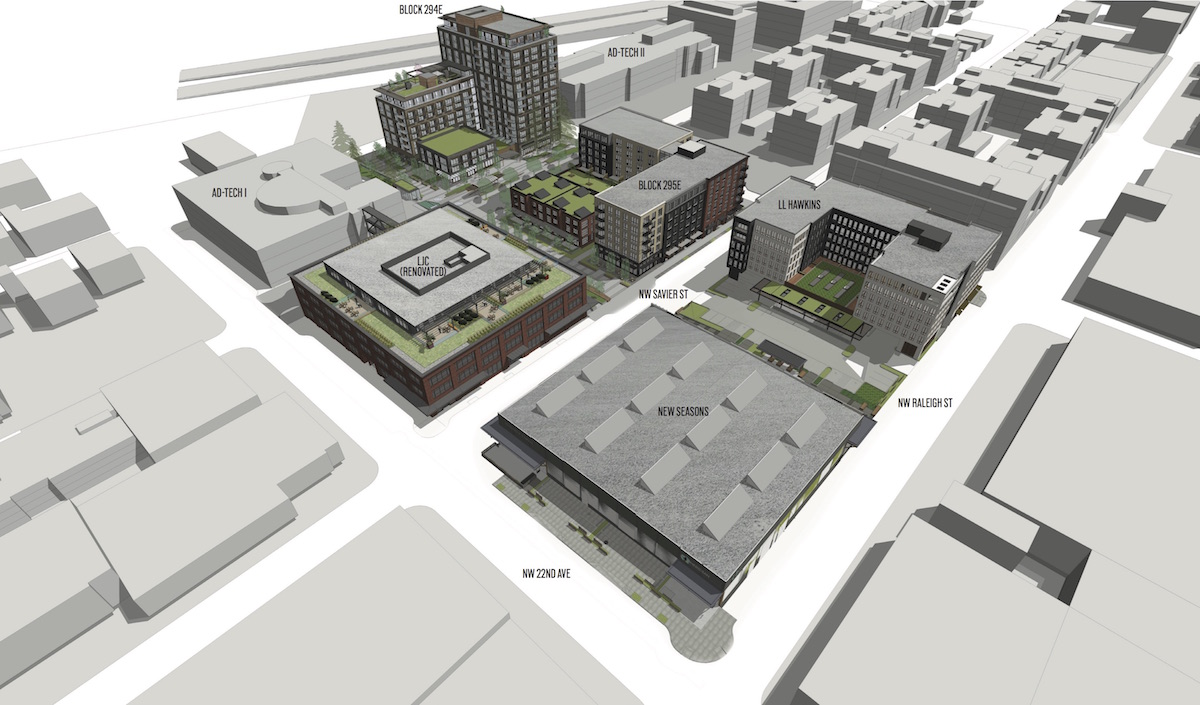 The northernmost of the proposed buildings is the 14 story Block 294E. The building is arranged as a 159′-9″ tall tower facing NW 21st Ave, which then wraps around onto Thurman St at a lower height. A three story volume is placed at the corner of the pedestrian accessway and Savier St. A forecourt will front on NW Savier St, in alignment with the existing space in front of the Ad-tech II building, which will remain.
Materials proposed for Block 294E include precast brick panel, precast concrete, öko skin, composite metal panel, aluminum windows, wood and aluminum storefront windows, metal and glass balconies, metal sunshades, and glass and metal canopies.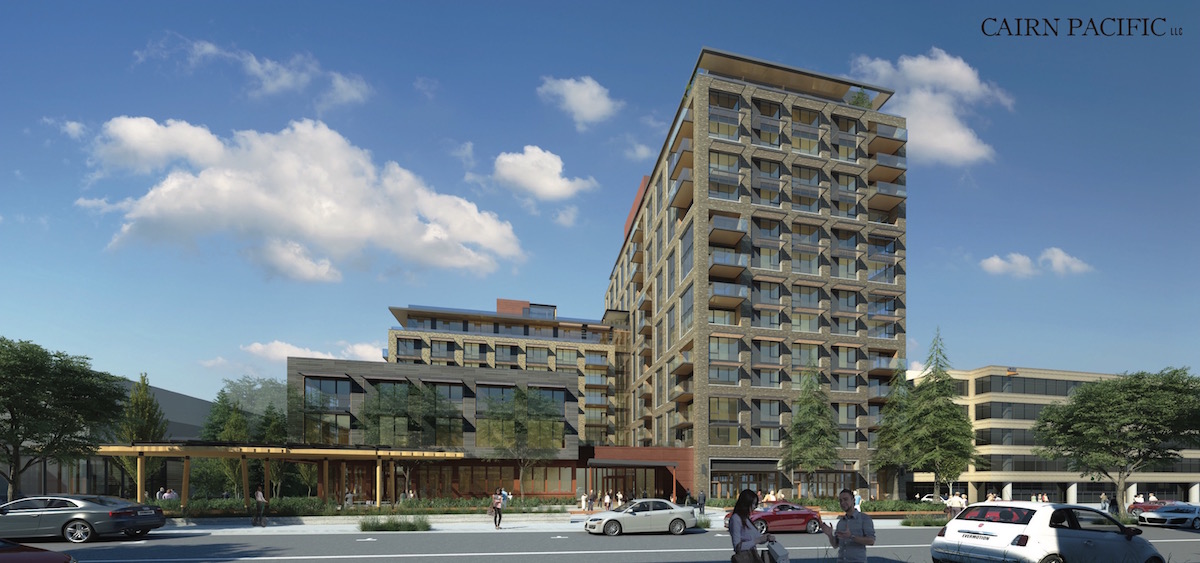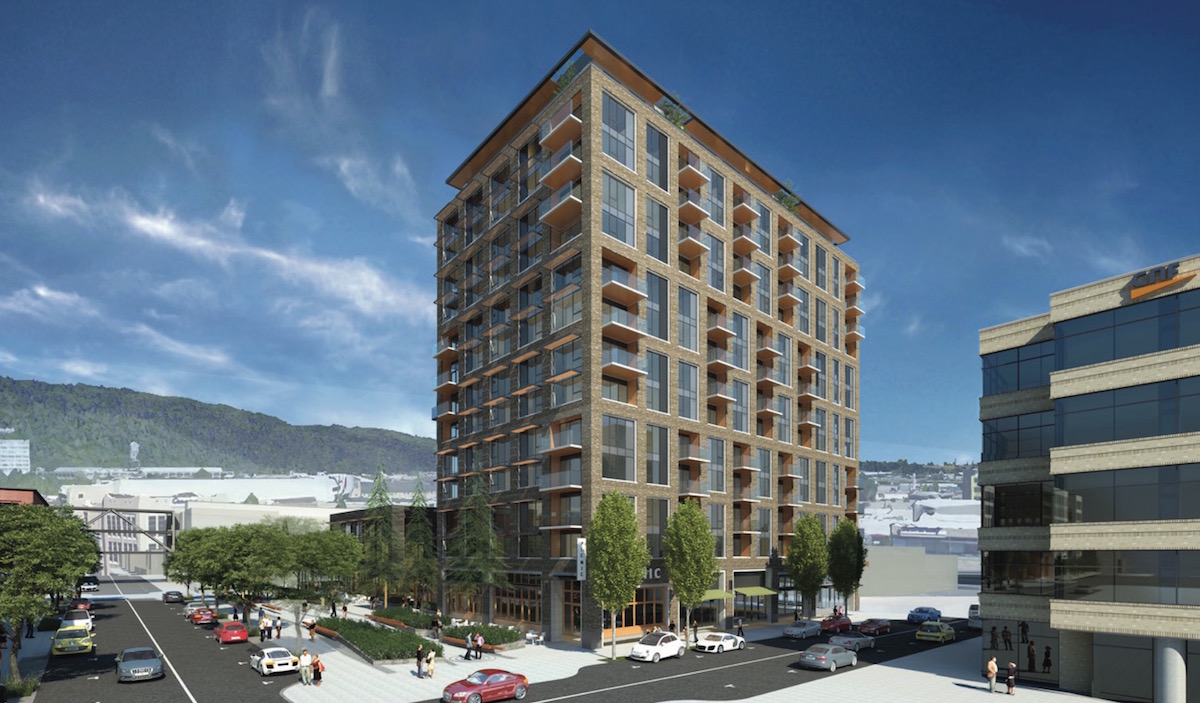 The landscape architects for the project are Lango Hansen, who will also be working on the landscaping for the Leland James Center to ensure consistency. The two tone colored concrete paving already found in front of the New Seasons at the Slabtown marketplace will be continued along the new accessway, including where it crosses NW Savier St. A variety of tree species will be planted, including honey locust, English oak, Douglas Fir and Sequoia.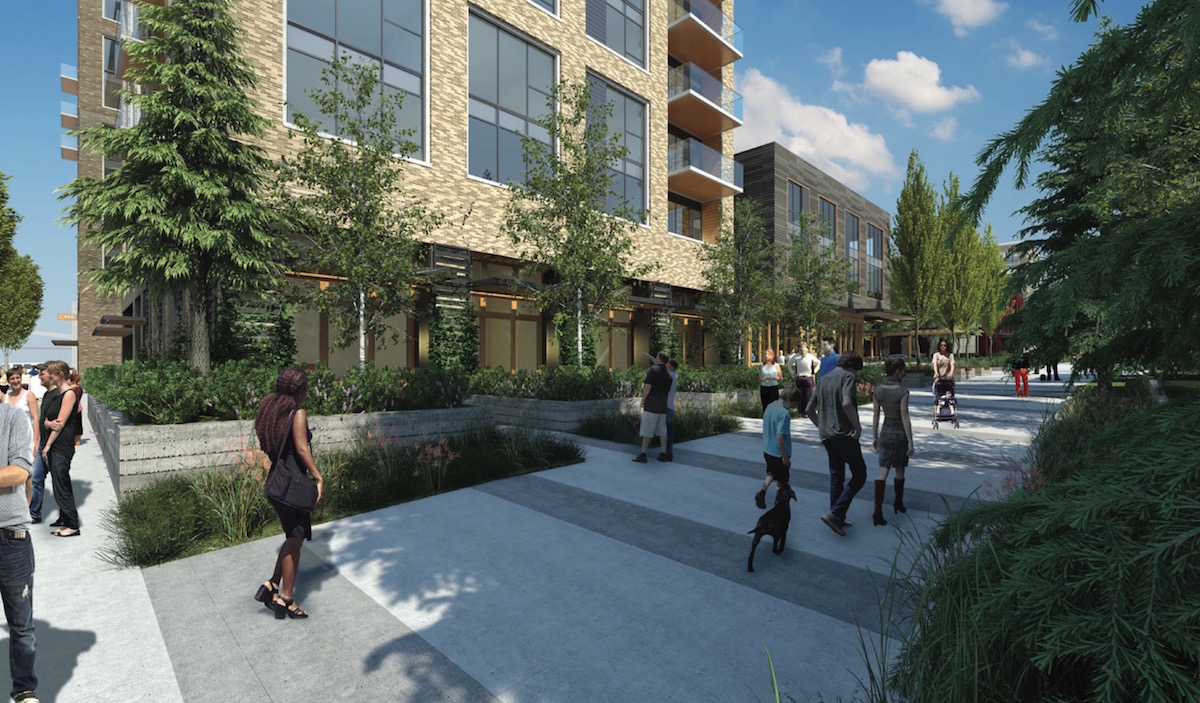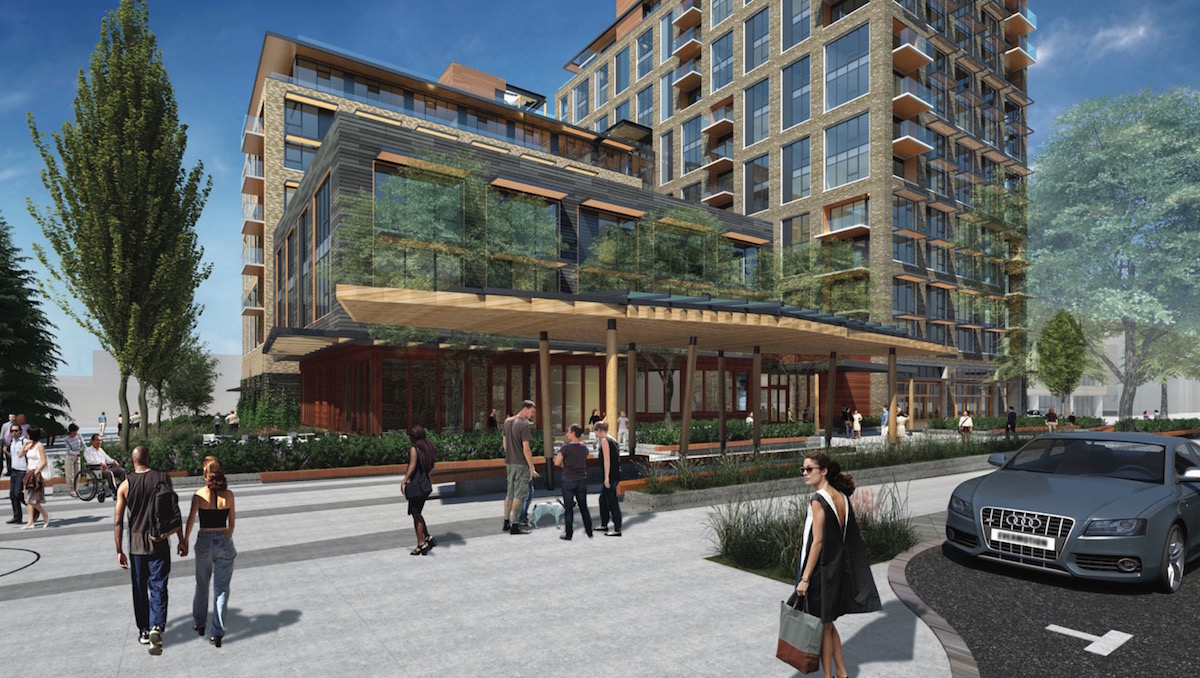 Block 295E is arranged as a 6 story "L" shaped building, which wraps around a 3 story bar building facing the accessway. A glazed bridge will connect the two legs of the "L" form. Materials proposed include brick in three colors, metal panel, wood and aluminum storefronts, fiberglass and aluminum windows, and steel balconies. Custom wood seating and board formed concrete planter boxes will be located throughout the accessway.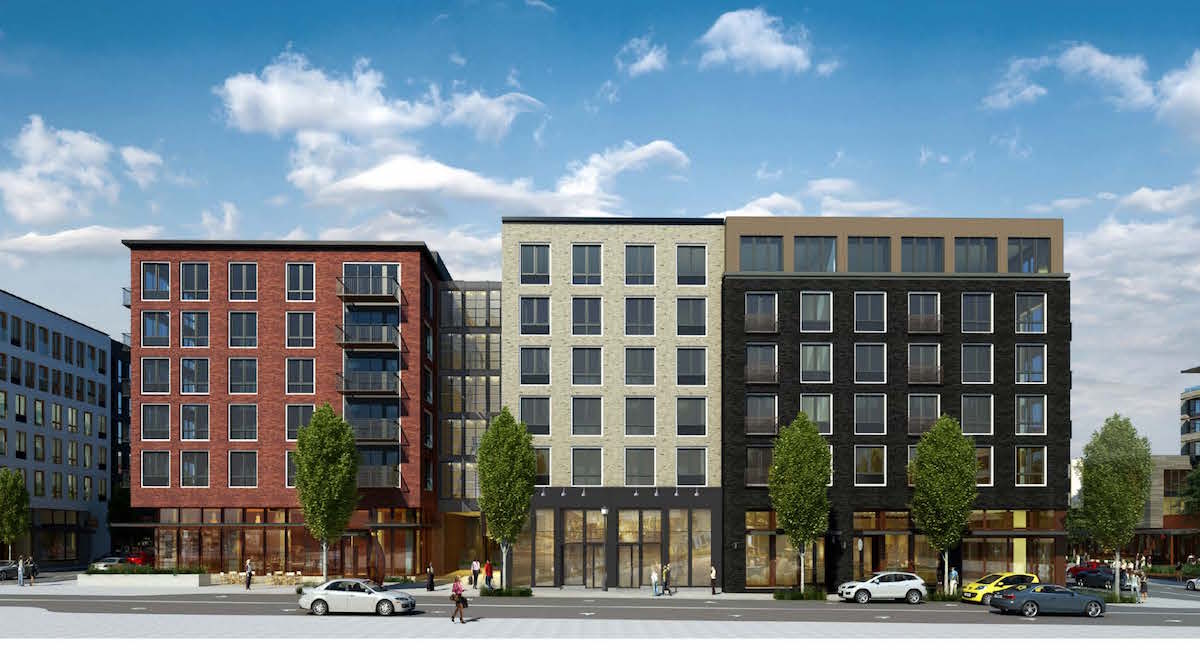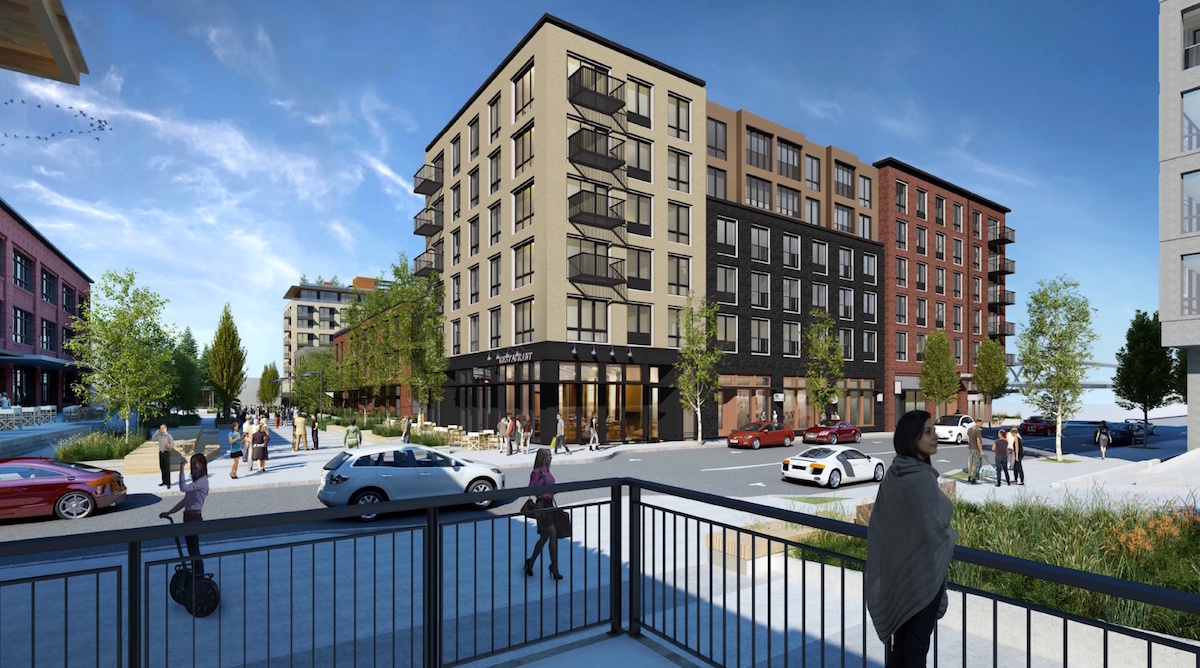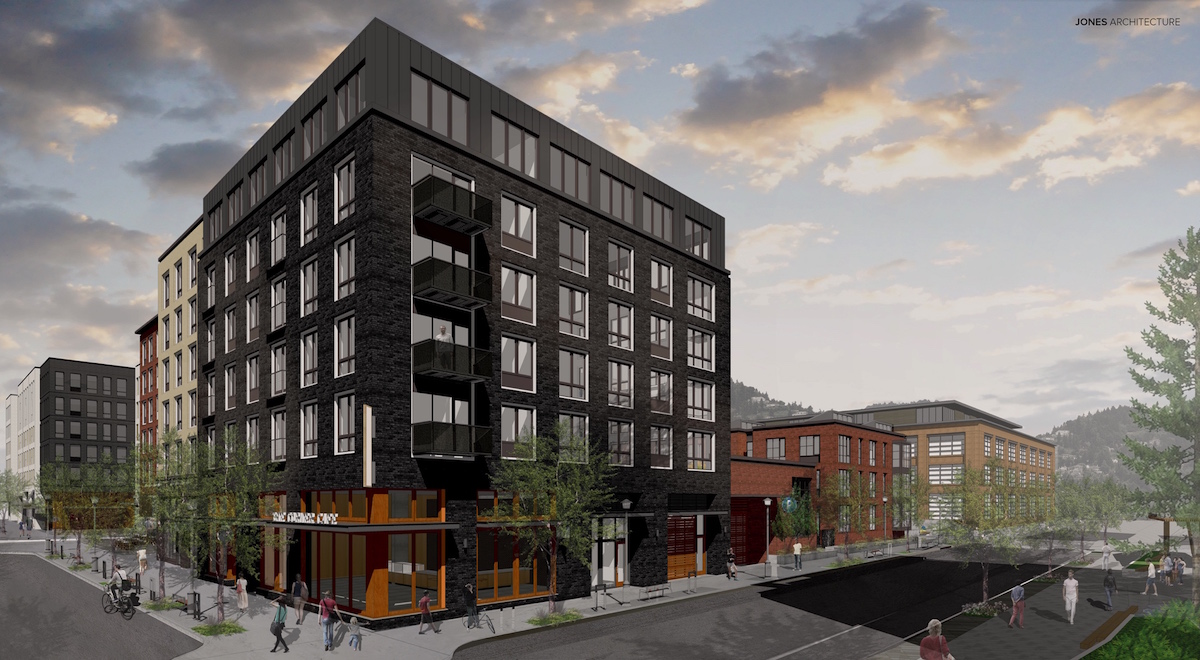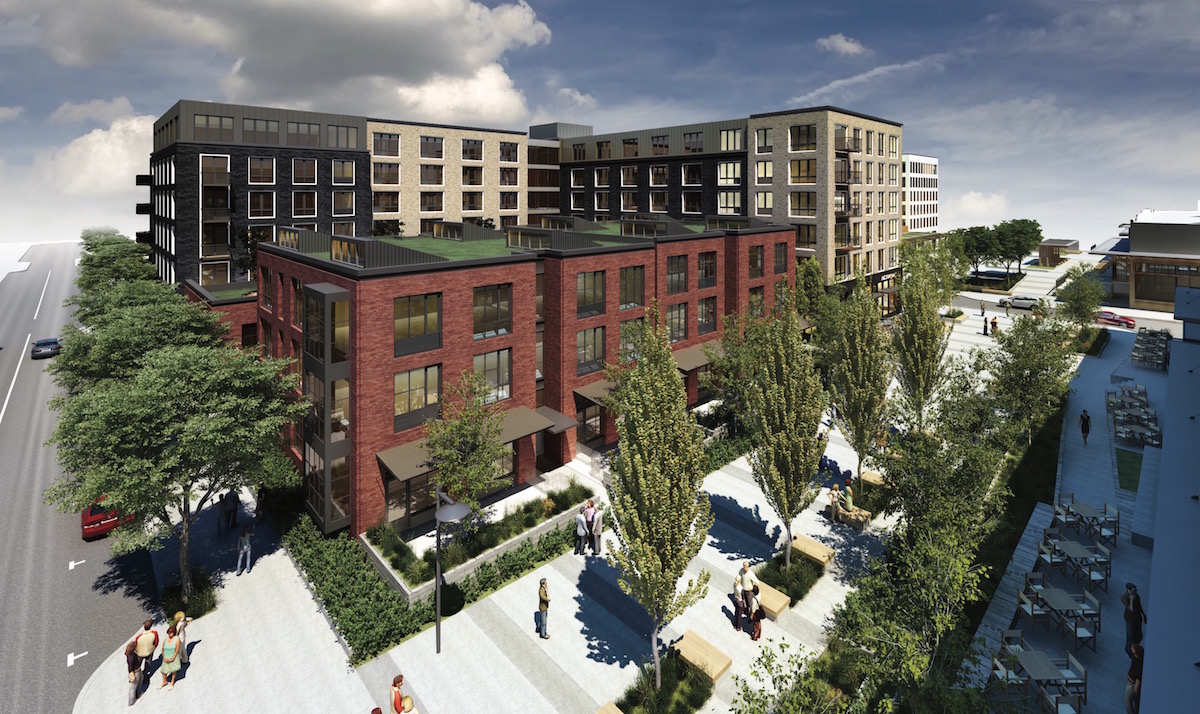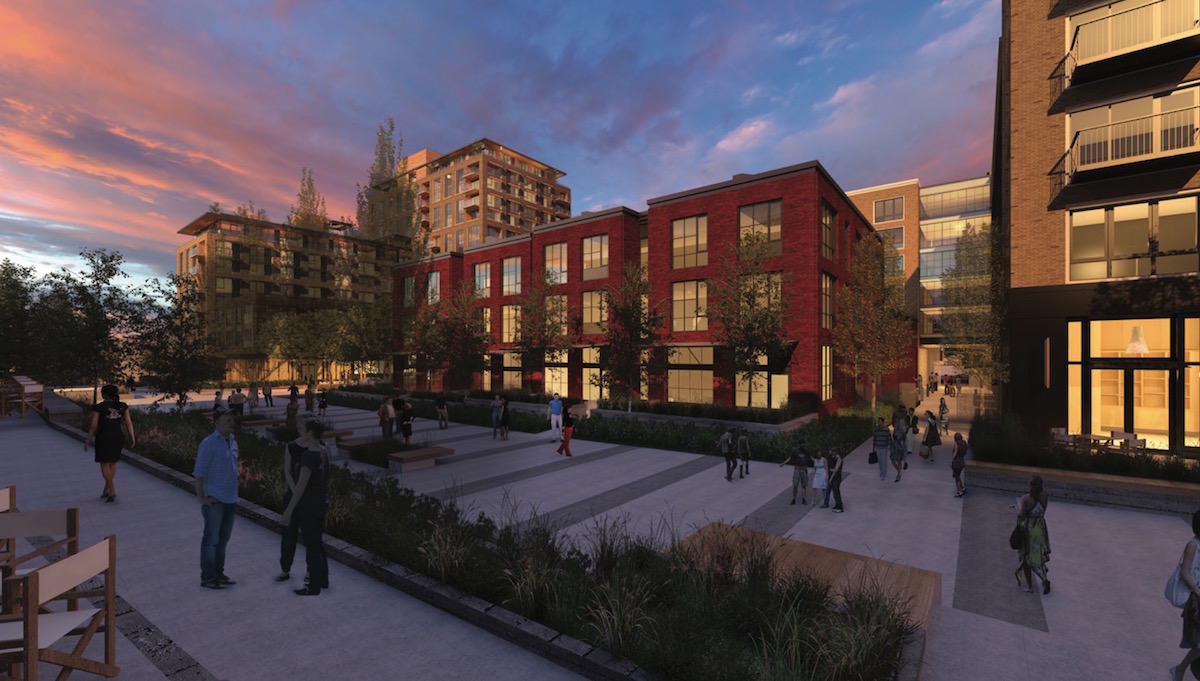 Blocks 294E and 295E went before the Design Commission three times: once for Design Advice in April; and twice for Design Review. At the project's second Type III Design Review hearing on October 5th 2015 the Commission voted 5-0 to adopt the Staff Report [PDF] and approve the project. After casting his vote, Commissioner Savinar summed up his thoughts on the project:
I really appreciate the work you're doing on this project, and in the district itself. You have found a vocabulary that I don't think, I certainly didn't see it in the Con-way Masterplan. The bones were there… but we all thought we were going to get big glassy faceless buildings. And you have found a vocabulary to extend the identity of Northwest Portland in a way that nobody has been able to do with grace and consistency and attention to detail and craft. And it's really wonderful. I'd love to see a big funky weirdo building, you know shaped in a strange way too, but what you're doing… it just astounds me. And Tom [Dichiara, of Cairn Pacific] I'm so happy that you are dedicated to this, because it's just so refreshing. So thank you.
Building permits were applied for in November 2015, and an excavation and shoring permit was issued in June 2016. Construction is expected to take two years.
Plans, Elevations and Sections