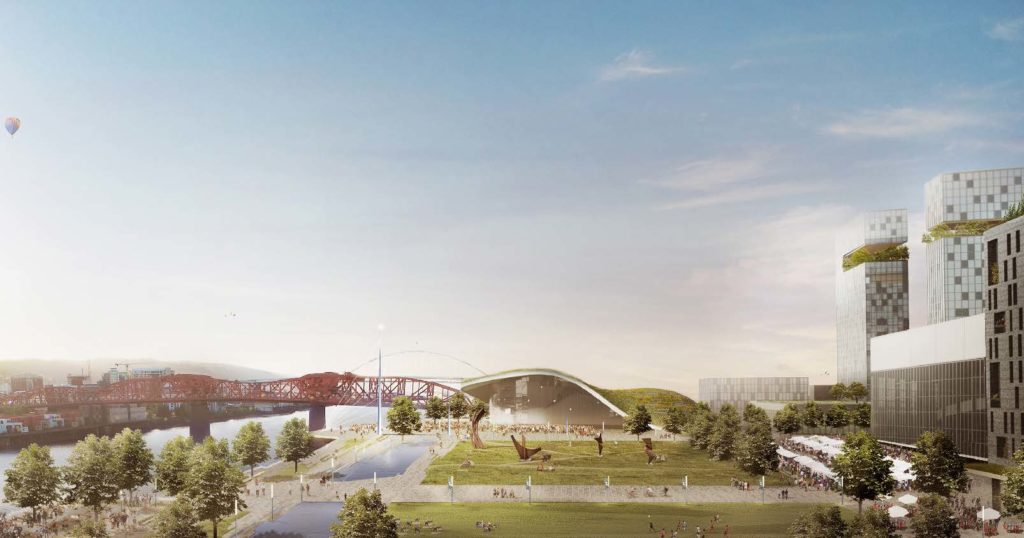 The Daily Journal of Commerce wrote about the Albina Vision, an effort by civic leaders to heal the district with intentional development that reverses displacement, with new public spaces, mixed income housing and cultural buildings.
Proposed legislation could eliminate a potential funding source for the Portland Diamond Project, writes the Willamette Week.
A Bowlero-branded bowling alley is proposed for the Lloyd Center, according to the Oregonian.
The Hyatt Regency at the Oregon Convention Center is already attracting attention in Portland — and beyond, according to the Business Tribune.
The Design Commission has approved the Grand Avenue Mixed Use, a 170-unit building in the Central Eastside, writes the Oregonian.
Portland Architecture had a conversation with Holst Architecture principal Dave Otte about the firm's transition to new leadership.
The Hyatt Place in the Pearl would likely be the city's tallest building to have no on-site parking, according to Portlanders for Parking Reform.
The Oregonian reports that ground has been broken on the Fourth and Montgomery Building, the downtown classroom, clinic and office building that will house programs of three higher education institutions and Portland's city government.
The Oregon Harbor of Hope could be open by this summer. Originally planned as private endeavor, the shelter and navigation center will receive $1 million in funding from the Joint Office of Homeless Services, reports the Oregonian.
*This article will be unlocked for the rest of this week. After this week it will only be viewable by DJC subscribers.