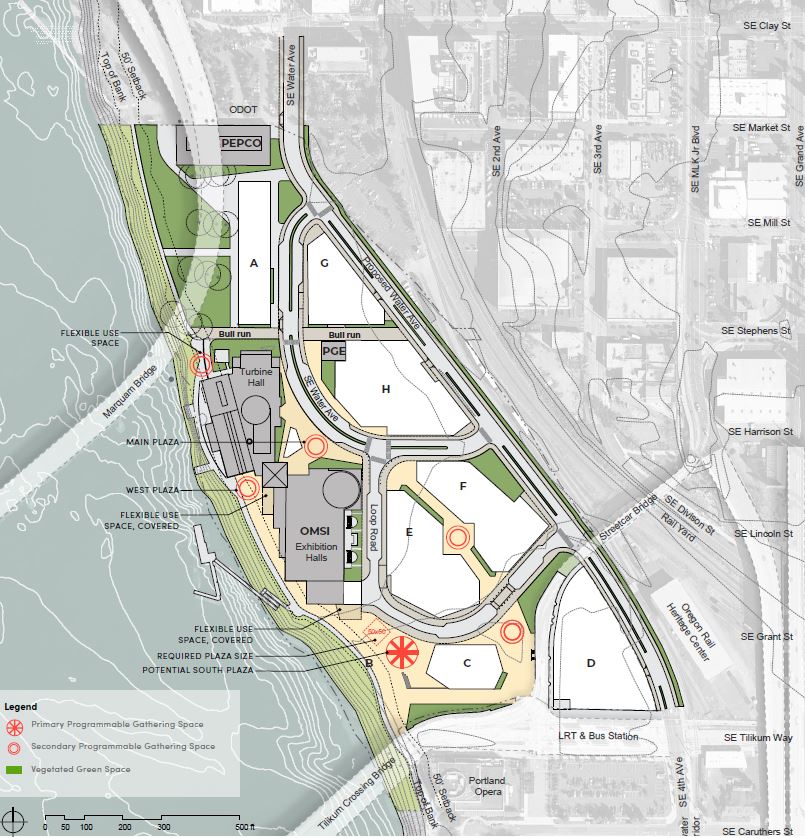 As much as 2 million square feet of development in the Central Eastside is proposed as part of the OMSI Masterplan, reports the Oregonian—the equivalent of two U.S. Bancorp Towers. The masterplan went in front of the Design Commission for its first Design Advice Request meeting last week.
The Broadway Corridor Masterplan also had its first Design Advice Request meeting. Commissioners praised "the change it would bring to the area but [took] issue with the intended use of the city's Green Loop,"* according to the Daily Journal of Commerce.
The Business Tribune published an interview with outgoing Lloyd Center manager Bob Dye. Work is set to start soon on the Lloyd West Anchor Remodel, which will include a Live Nation venue. The center recently presented revised plans for the Lloyd East Anchor Remodel to the Design Commission.
The Willamette Week reported that the cost of building new schools and affordable housing could rise under the Portland Clean Energy Fund, due the fact that large construction companies are being classified as "retail businesses."
The Business Tribune spoke to 10 food carts about their plans for where they will go after construction starts on Block 216. The Oregonian wrote about 10 carts that turned downtown Portland's biggest food cart pod into a tourist destination.
A Portland preservationist, and former chair of the Historic Landmarks Commission, wants the Jefferson Station building removed from the National Register of Historic Places, reports the Oregonian. The shell of the historic building is being incorporated into the new Multnomah County Central Courthouse.
The Business Tribune wrote about Opsis Architecture at 20.
Multnomah County hopes to create an alternative to jail or the emergency room for mentally ill homeless people at the recently purchased 333 SW Park Ave building, writes the Oregonian.
*This article will be unlocked for the rest of this week. After this week it will only be viewable by DJC subscribers.