Design Advice has been offered on the Modera Morrison, a 7-story building being designed by SERA Architects for Mill Creek Residential Trust. The project would include approximately 245 units, with two levels of below grade parking.
The building will be subject to the city's inclusionary housing rules, which require the provision of affordable housing or the payment of a fee-in-lieu.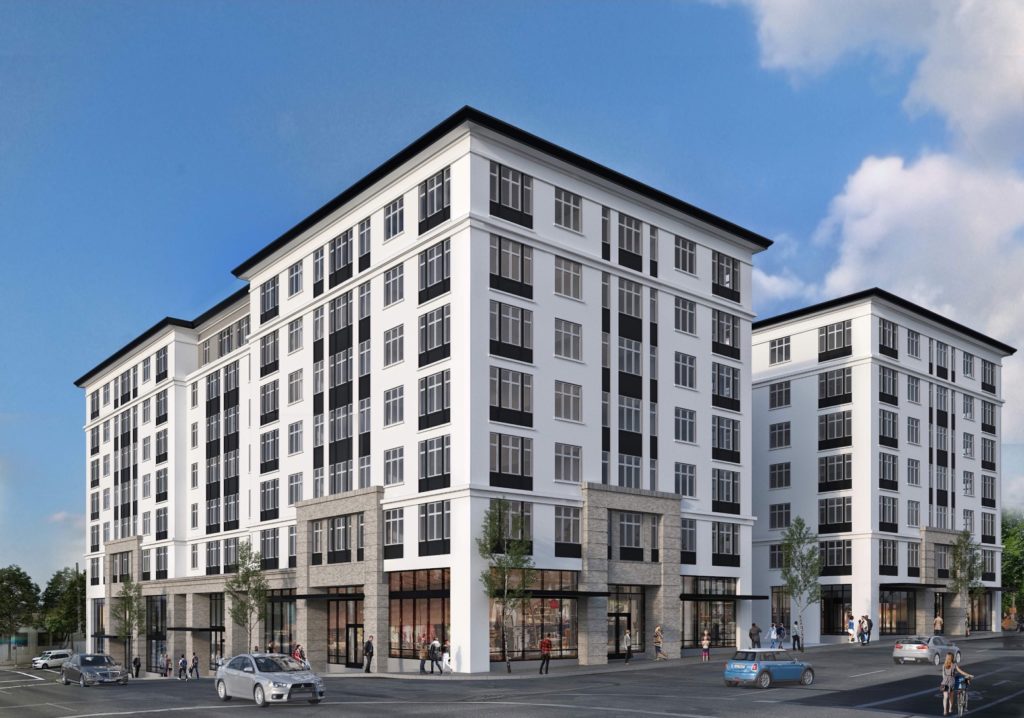 The project site is a full block at 1120 SE Morrison St, bound by SE Morrison, 12th, Belmont, and 11th. The site is currently occupied by a single story warehouse, parts of which date back to 1906.
One block to the south of the Modera Morrison site is the under-construction Modera Buckman. Other buildings recently completed, under construction or planned on the lower Belmont / Morrison corridor include the Goat Blocks and the Goat Blocks 888 building, Alder.9, Modera Belmont, Grand Belmont and the 12-story building adjacent to the Weatherly.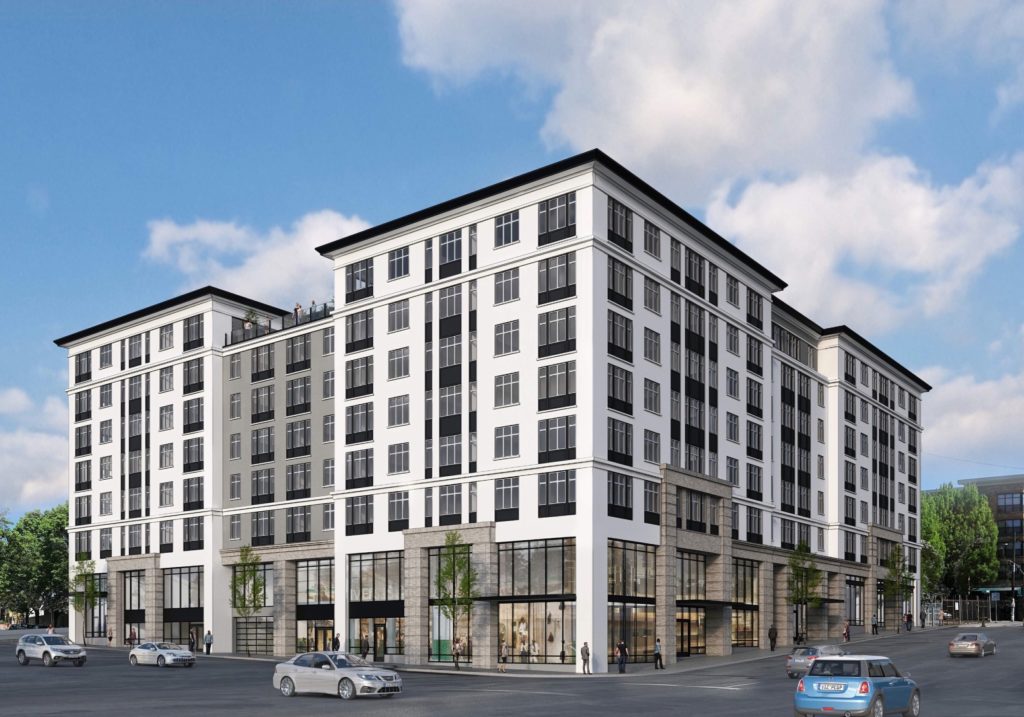 The building will be arranged in a U-shaped plan, with an east-facing courtyard that meets the ground at SE 12th Ave. Parking would be accessed from SE 11th Ave, one story below the first floor level. Ground floor retail would be located along SE Belmont St and 12th Ave, with a small retail unit at the corner of SE Morrison and 11th.
The primary material proposed for the Modera Morrison is stucco, with vinyl windows and painted fiber cement spandrels beneath the windows. Brick veneer and aluminum storefront glazing would be used at the lower two levels.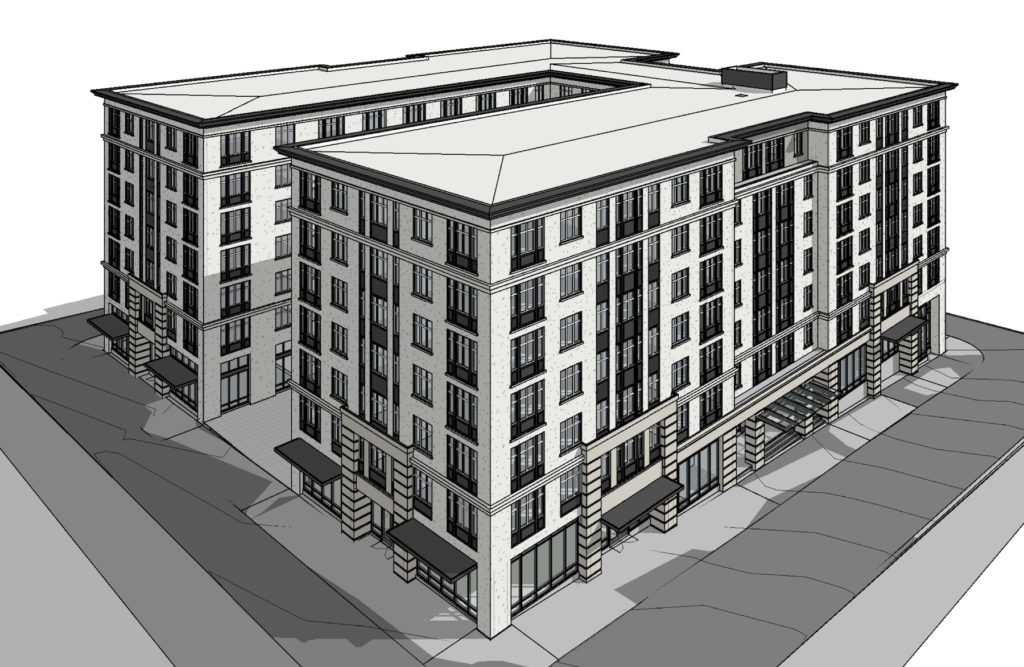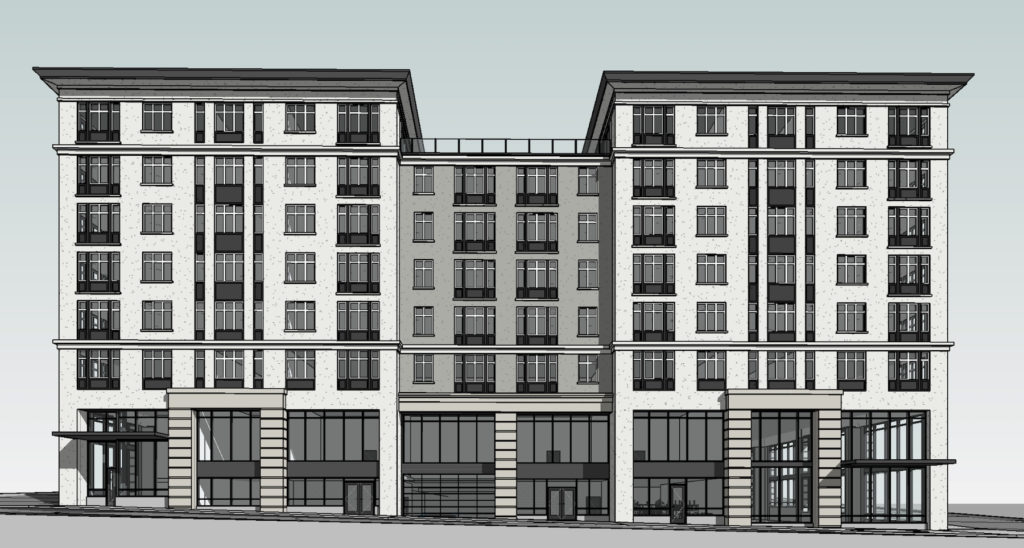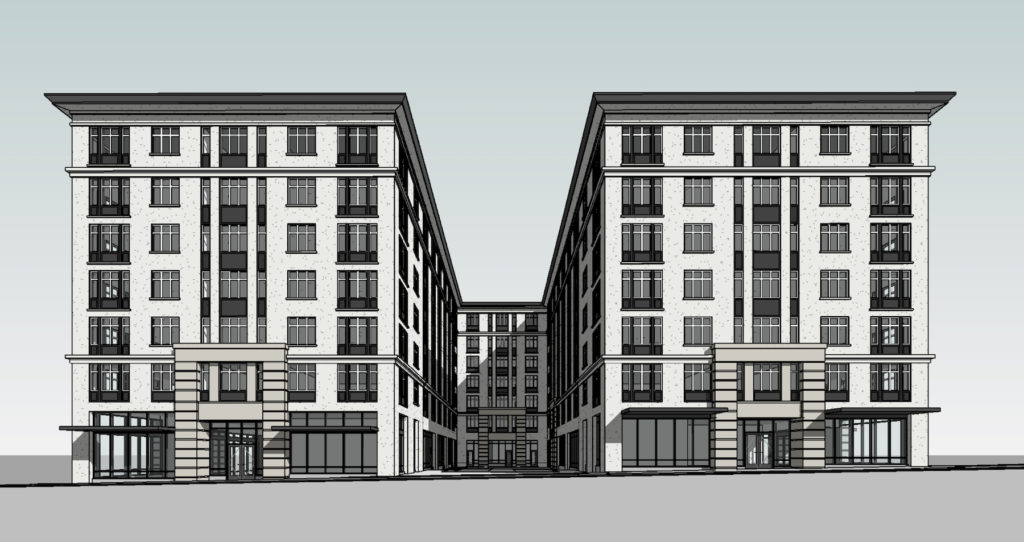 The project went in front of the Design Commission for an initial advisory meeting on May 16th. Much of the discussion was focused on the form and massing of the building, as noted in a summary memo:
The Commission acknowledged that for a U-shaped building, a courtyard facing east was preferred. However, they suggested that the building was so massive that the impact to the adjacent neighborhood could be reduced by splitting the building into two north/south-oriented bars with the west bar responding more to the large footprint massing of the industrial neighborhood to the west and the east bar broken into smaller massing expressions to better relate to the smaller-scaled residential neighborhood to the east. An elevated north/south-oriented terrace could provide open space to upper level units. Belmont should remain a strong retail street with no blank walls. The Commission stated that they expected the applicant to return with no request for a ground floor windows or ground floor active use Modification. The Commission stated that a more modern expression was more appropriate in that it could better blend into the neighborhood west of 12th and help to break down the mass along 12th.
The Modera Morrison is currently scheduled to return in front of the Commission for a second Design Advice Request meeting on July 18th.
Drawings
Plan | Site

Plan | Level P2

Plan | Level P1

Plan | Ground

Plan | Levels 2 to 6

Plan | Level 7

Elevation | East (SE 12th)

Elevation | North (SE Morrison)

Elevation | West (SE 11th)

Elevation | South (SE Belmont)

Section