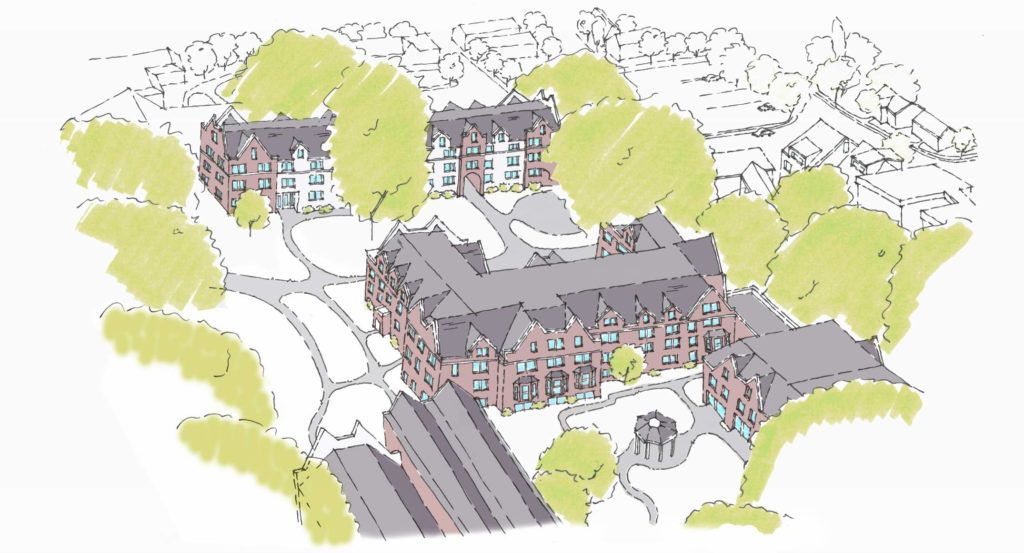 Every week, the Bureau of Development Services publishes lists of Early Assistance applications, Land Use Reviews and Building Permits processed in the previous week. We publish the highlights. This post covers May 4th, 2020 to May 10th, 2020.
Early Assistance has been requested by Quilici Architecture & Design for a project at 6825 SW 45th Ave:
The Gabriel is a new 121 unit apartment building with 112 parking spaces. The building will be 4 stories of wood frame construction over 1 story of concrete construction. Levels 1-4 will be wood frame and contain residential uses. The basement parking level will be concrete and contain parking and 2 residential units. The ground floor (Level 1) includes the entry lobby and common area spaces. The building will have full automatic sprinkler systems with fire protection as prescribed by code.
Early Assistance has been requested by Koble Creative Architecture for a project at 1460 NE Prescott St:
New three-story mixed-use building and associated site improvements on occupied lot.
A Pre-Application Conference has been schedule by Emerick Architects to discuss the Mann House at 1021 NE 33rd Ave:
The conversion of an existing 51,000sf historic group-living complex into an affordable housing complex. With a new 36,000sf addition and a future, 32,000sf stand alone building to be added to the
site, a total of 128 new affordable housing units will be created. New dry wells and stormwater basins will be added to the site for on-site stormwater filtration.
Cathedral Village at 8614 N Crawford Street has been submitted for a Type II Adjustment Review by MWA Architects:
100-day review timeline. Adjustment requested to 33.130.222, Maximum Building Length, to allow the required 7′ porch to have its roof extend into the required 20′ setback. Adjustment requested to 33.130.242, Transit Street Main Entrance, for an entrance required every 200′ of building length. Cathedral Village Apartments, 4-story apartment building with 110 affordable family apartments. The unit mix will be (11) 3-bedrooms, (45) 2-bedrooms, (37) 1-bedrooms and (17) studios. There will be resident services on the ground floor and 37 parking spaces. There is a basement level at the NW corner of the building that will house bike parking and storage.
A building permit was issued to Waechter Architecture for a project at 4224 N Mississippi Ave:
New 3 story mixed use building, group B offices on first and second floor, (1) R-3 apartment on third floor, includes associated sitework *** mechanical permit separate ***
Buildings permits were issued for buildings on the University of Portland Franz Campus (also known as the River Campus) at 6210, 6320 and 6350 N Van Houten Pl:
Track & Field complex including a 523 seat covered Grandstand (Part C on Plans): Construction of a new Collegiate Track & Field Facility including 6 lighting poles. See Comments

New 12,880 sf Boathouse and Environmental Lab building w/ 2,389 sf mezzanine. Work includes utility infrastructure, stormwater facilities, grading, paving, sitework & site lighting, and Greenway trail. See Comments

New single story, slab on grade, 46,682 sf physical plant with related mechanical, plumbing, electrical, and site work. Type II B Non-combustible construction, fully fire sprinklered. Separate PT and ET required. See Comments