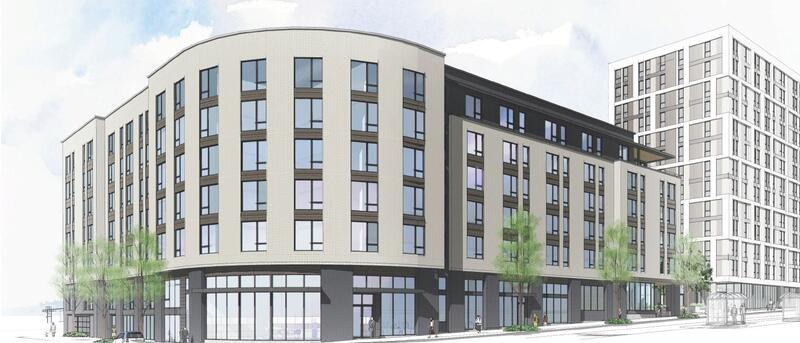 Every week, the Bureau of Development Services publishes lists of Early Assistance applications, Land Use Reviews and Building Permits processed in the previous week. We publish the highlights. This post covers December 7th, 2020 to December 13th, 2020.
Early Assistance has been requested by West Architects for a project at 5327 NE Glisan St:
New 27,671sf 30-unit apartment building
Early Assistance has been requested by Otak Inc and Palindrome Communities for a project at 5802 SE 92nd Ave:
The applicant seeks to develop a mixed-use project consisting of ground floor retail/commercial use and 4 floors of multifamily residential apartment use. The number of units is expected to be between approximately 37-42. The existing building on R135387 will be converted to ground floor commercial and residential units on the top floor It is assumed a mix of studio, one, and two bedrooms. On site parking will be evaluated. All required common/open space will be provided. Stormwater treatment has not yet been identified at this time.
Early Assistance has been requested by West Architects for a project at 2111 N Rosa Parks Way:
New 23,106SF, 30-unit apartment building with inclusionary housing.
A project at 11005 E Burnside St has been submitted for building permit by Mentrum Architecture:
PDOX PS – Construct new 3 story (29) unit apartment building with associated site work
Building permit were issued to Ankrom Moisan Architects for the second phase of Riverplace Parcel 3 at 2065 SW River Parkway:
New 6 story 5 over 1 Type IIIA and Type I wood apartment over concrete podium structure with ground floor commercial and daylight basement parking – 2nd 6 story tower permitted under 17-156297-CO, includes all site utility piping

PHB – BRIDGE HOUSING EAST TOWER – REV 03 – East building revised to meet program requirements for affordable housing. Fitness area removed, unit laundry removed and common laundry rooms added, mechanical system revised and electric heat added to units, unit bathrooms removed, foundation revision at NE corner, courtyard revised to include playground. See revision narrative for additional information.