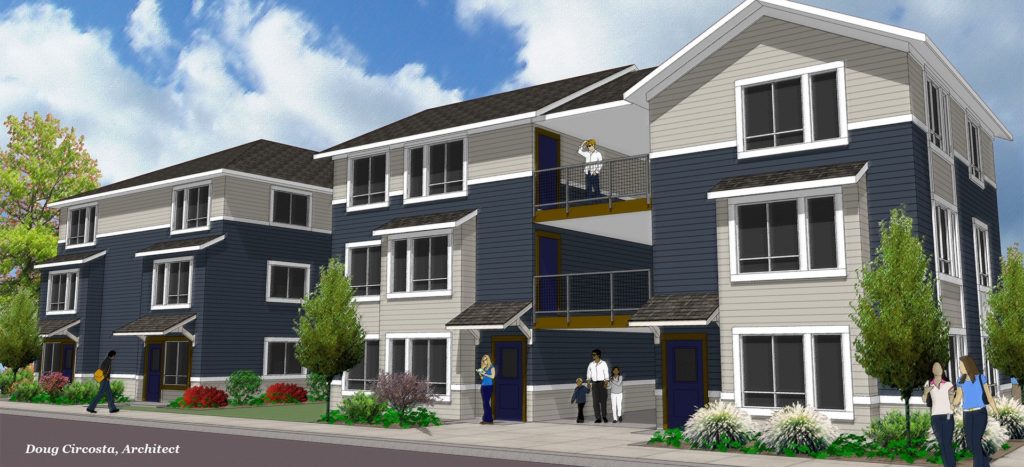 Every week, the Bureau of Development Services publishes lists of Early Assistance applications, Land Use Reviews and Building Permits processed in the previous week. We publish the highlights. This post covers September 23rd to September 29th 2019.
Early Assistance has been requested by Scotia Western States Housing for a project at 3224 SW 12th Ave:
15 unit multifamily project proposed to become part of a larger project to the north. Access would come off the existing project's access on the parcel just north of the proposed project.
Early Assistance has been requested for a project at 11468 NE Holman St:
Development of a 4-story, 127 room hotel.
A project at 1014 NE Alberta St has been submitted for building permit review:
New 3-story 4 unit apartment building with associated site work
Buildings permits were issued to Doug Circosta for the Gooseberry Apartments at 450 NE 147th Ave (previously 14708 NE Glisan St):
1 of 5 new buildings, 3 story, 8 unit 100% affordable housing apartment building and associated site work. Tree removals. ***Mechanical permit to be separate***

2 of 5 new buildings, 3 story, 12 unit 100% affordable housing apartment building and associated site work. Tree removals. ***Mechanical permit to be separate***

3 of 5 new buildings, 3 story, 12 unit 100% affordable housing apartment building and associated site work. Tree removals. ***Mechanical permit to be separate***

4 of 5 new buildings, 3 story, 12 unit 100% affordable housing apartment building and associated site work.Tree removals. ***Mechanical permit to be separate***

5 of 5 new 100% affordable housing buildings community building with laundry and bathroom and associated sitework. Tree removals. ***Mechanical permit to be separate***