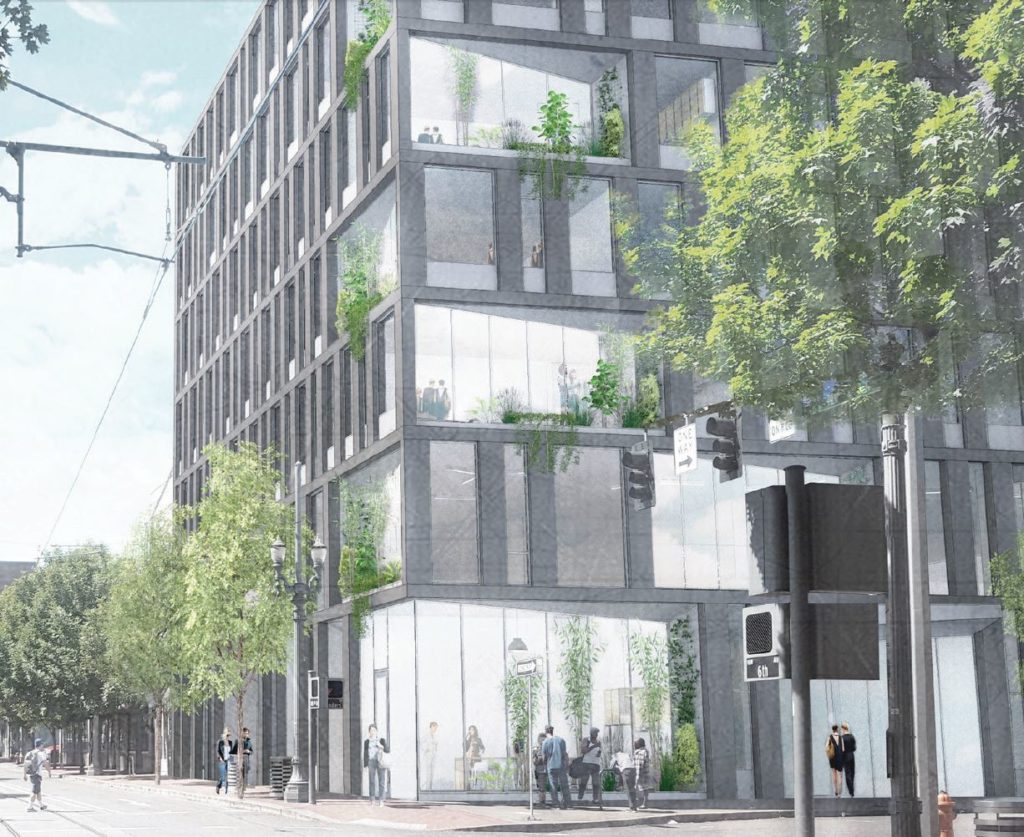 Every week, the Bureau of Development Services publishes lists of Early Assistance applications, Land Use Reviews and Building Permits processed in the previous week. We publish the highlights. This post covers November 4th to November 10th, 2019.
Early Assistance has been requested by Salazar Architect for Las Adelitas at 6723 N Killingsworth St:
141-unit affordable housing building. Ground floor uses include offices, community room, head start classroom, event space courtyard, and plaza. Drywells are proposed for on-site stormwater disposal.
Early Assistance has been requested by Ankrom Moisan Architects for Large Division at 11518 SE Division St:
Large Division will consist of 138 units of affordable housing, serving households at 30% and 60% Area Median Income ("AMI"). Seven (7) units will be set aside for Permanent Supportive Housing ("PSH") intended to serve homeless households, or at risk of homelessness. The project will consist of studios, one-, two-, and three-bedroom units ranging in size from 416 sf to 1,028 sf.
Early Assistance has been requested by Reilly Signature Homes for a project at SW 18th & Mill St Terrace:
Development of new 4 story condo building with 10 condos, with parking on main level
A Pre-Application Conference has been scheduled by Works Progress Architecture to discuss the redevelopment of the Westwind Apartments at 327 NW 6th Ave:
Construction of a new, 7 story, mixed-use building on a quarter block site. Project includes 70 transient housing units (SROs) with PHB funding, 30 studio apartments and Central City Concern offices and community spaces.
A Pre-Permit Zoning Plan Check has been requested for a project at 6814 N Greenwich Ave:
Two new 3 story multi-family buildings using Community Design Standards. Buildings include basements and L03 mezzanine. Building occupancy is R-2. No off street parking. Stormwater method utilizes on-site drywell.
Conway Block 291E, at the southwest corner of NW Raleigh & 20th, has been submitted for a Type III Design Review by SERA Architects:
Block 219 East will be 6 story market rate apartment building with 200 residential units and basement parking in the Con-Way Master Plan area in the Northwest Plan District.
A project at 3106 SW 12th Ave has been submitted for building permit review by Stewart Gordon Straus Architect:
New 4-story 34 unit apartment building with associated site work; onsite parking ***mechanical permit to be separate***
A building permit is under review for Kilpatrick II at 1408 N Kilpatrick St:
New construction of 18 housing units in a 3-story building on East portion of site. This is buildng 2 of 2. Building 1 was under 18-280322-CO. Utility and grading for entire site was under 18-280322-UTL-01-CO

A building permit is under review for the Holden of Pearl:
review w/ 19-212350-MT New 16 story tower with 3 story podium, courtyard, and 1 below grade level for parking. Building will be a senior living community with 110 units of R-2 occupancy independent senior living, 131 parking stalls in below-grade parking with total GSF of 296,500 with 42,000 of that amount being below-grade parking. Active uses will be provided along 13th Avenue (per 33.510.225).
An excavation and shoring permit was issued to Ankrom Moisan Architects for the Grand Avenue Mixed Use at 465 NE Davis St:
EXC 01 – Excavation and shoring permit
A building permit was issued for a project at 20 NE 60th Ave:
Construct new 4 story 14 unit apartment building with parking on main fl and associated site work