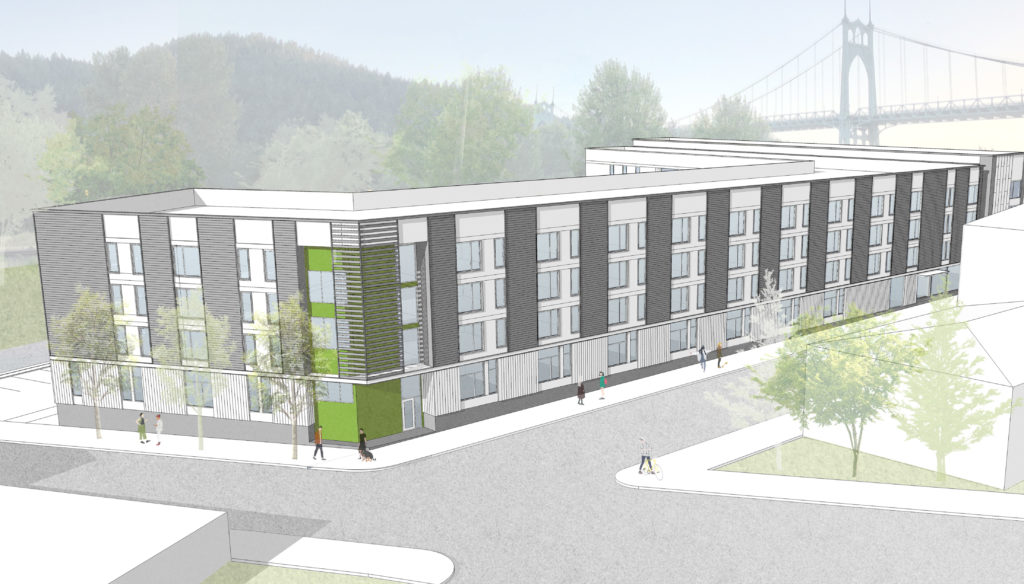 Every week, the Bureau of Development Services publishes lists of Early Assistance applications, Land Use Reviews and Building Permits processed in the previous week. We publish the highlights. This post covers October 14th to October 20th 2019.
Early Assistance has been requested for a project at 5106 N Lombard St:
Keep the existing 1902 structure, and build a 20-unit, 5-story apartment behind the existing structure.
Early Assistance has been requested by EPR Design for a project at 2425 NE Alberta St:
Demo house and construct a 4-story building with the 1st level use as commercial. The top 3 stories will be 30 apartment units. No parking on-site. 10′ landscape buffer at the north property line with a 30×20 shared outdoor space. Most units will also have private outdoor space.
Early Assistance has been requested by MWA Architects for Cathedral Village at 8614 N Crawford St:
4 story apartment building with 110 affordable family apartments. The unit mix will be (11) 3 bedroom, (45) 2 bedroom, (39) 1 bedroom and (15) studios. There will be resident services in the ground floor and 48 parking spaces. There is a partial basement level at the SW corner of the building that will house bike parking and storage.
Early Assistance has been requested by Brett Schulz Architect for a project at 6950 N Maryland Ave:
New construction of a multi-family residential development on two adjacent lots. Each development will be comprised of two separate buildings at 3 stories tall with approx 30 unit max of studio & 1-bedroom apartments. Stormwater disposal for both lots will be drywells.
The Division 28 Homes at 2865 SE Division St have been submitted for a Type III Design Review by Hacker architects:
10-unit (approximately 37,000 sf) multi-family project with ground floor retail and 15 parking spaces. Below-grade parking is accessed from SE 28th Place. Outdoor space is provided in individual terraces and a common rooftop deck. Modifications requested to the setback (33.130.215) and pedestrian standards (33.130.240).
A project at 2510 NE Sandy Blvd has been submitted for building permit review by Brett Schulz Architect:
Demo north portion of existing building. Change of occupancy S-1/B to F-1/B, tenant improvements in remainder of building for all tenant spaces, new mezzanines and detached trash enclosure less than 120 sf; seismic attachement of roof to walls, interior shear walls.
A project at 11025 NE Sandy Blvd has been submitted for building permit review by EMA Architecture:
Construct new one story building to include; multi purpose room, mechanical room, three new restrooms; and kitchen; exterior new patio on north side of building new play field and associated site work to include; reconfigure existing parking; new walkway; widen existing driveway on north side; close driveway on SE corner and reconfigure landscaping ***mural under separate permit***
A building permit was issued to Quilici Architecture & Design for a project at 2508 SE 32nd Ave (previously 3212 SE Division St):
New 4-story w/basement, 32 unit apartment building, includes associated site work. ***separate mechanical & fire alarm / fire sprinklers***
A building permit was issued to Fosler Portland Architecture for a project at 1675 N Willis Blvd:
Construct new 3 story (31) unit apartment building with associated site work and bike storage area in basement
A building permit was issued for a project at 1424 N Simpson St (previously 5833 N Maryland Ave):
New 3 story, 12 unit apartment building with detached trash enclosure under 120sq ft, includes associated sitework, roof trusses and floor joists ***DFS stair rail system ****mechanical to be obtained separately***