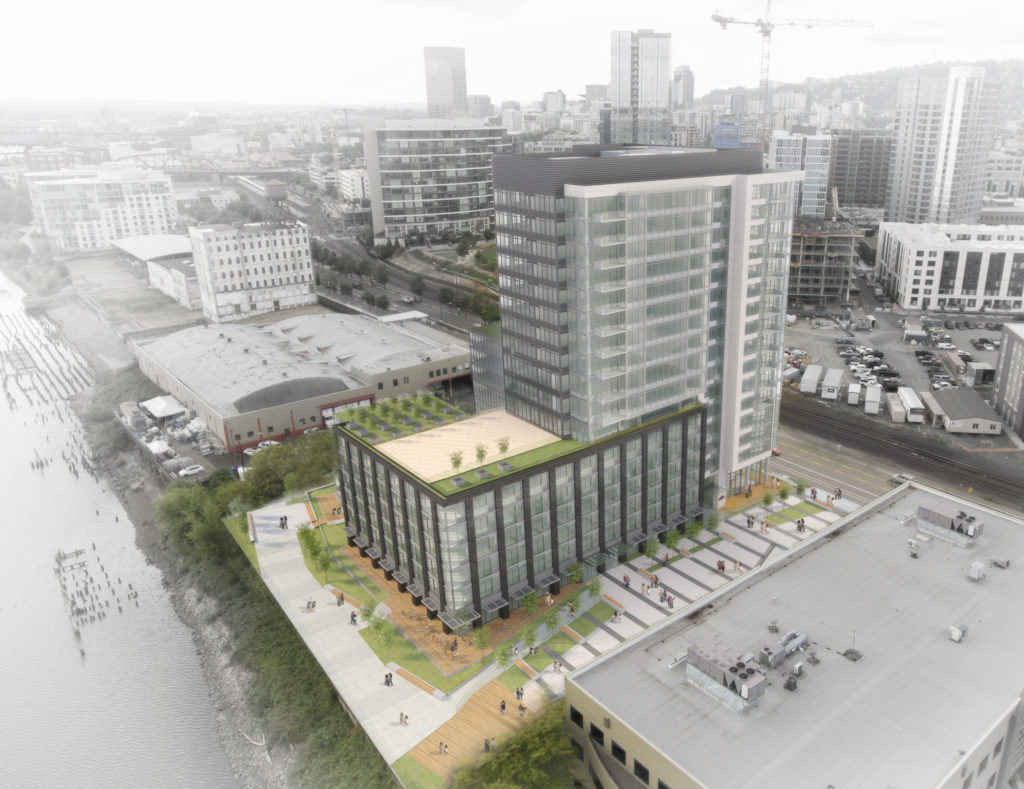 Every week, the Bureau of Development Services publishes lists of Early Assistance applications, Land Use Reviews and Building Permits processed in the previous week. We publish the highlights. This post covers November 25th to December 1st, 2019.
Early Assistance has been requested by Emerick Architects for a project at 1520 NW 20th Ave:
12-unit, 2-story, apartment addition over an existing 1-story, 10,000 sq ft building. The new residences will have two stair exits and elevator access. The second story has walk-out terraces, and there will be balconies on the third floor, and anticipated solar panels on the upper roof. The existing building is unreinforced masonry, 1-story, manufacturing-type IIIB, non-historic building. The existing 1-story building will receive a seismic upgrade to meet Title 24.85.050.
Early Assistance has been requested for a project at 503 SE 29th Ave:
30 unit apartment building
A Pre-Application Conference has been scheduled by Trammel Crow to discuss Con-way Blocks 262 and 261 at NW 20th & Savier:
The project includes Blocks 261 & 262 of the Con-way Master Plan. the combined site area of the two blocks is 89,731.45 sf prior to any right of way improvements. The applicant is currently performing due diligence and intends to develop market rate housing o Block 262 and hotel on Block 261. The applicant seeks feedback on the process and feasibility of amending the Conway Master Plan to facilitate hotel use on Block 261. Stormwater management information will be submitted with the DR application.
A Pre-Application Conference has been scheduled to discuss a project West of 4144 SW Canby St:
Construction of a 25-unit condo-style housing planned development on the 3.41 acre lot. A private street system will serve the development with access from SW Canby St. The site contains both conservation and protection overlays, and all proposed development will remain outside of those environmental overlay areas. A private utility pump will serve the development (due to the constraints and the topographical features of the site) which will connect into the municipal sanitary system on SW Canby St.
A Pre-Application Conference has been scheduled by Lenity Architecture to discuss a project at 10603 SE Henderson St:
New assisted living/memory care/cottages for the elderly around existing church facilities. Stormwater to be collected and conveyed in to existing storm system infrastructure.
A project at 11468 NE Holman St has been submitted for a Type II Adjustment Review:
Development of a new hotel. Adjustment to pedestrian standard 33.140.240.B.1.a, to eliminate connection to Airport Way. Tree Review to remove 2 trees shown on Tree Preservation Plan. Tree Preservation Violation Review for the removal of 7 trees.
An addition to Marshall High School at 3905 SE 91st Ave has been submitted for a Type II Conditional Use Review:
New 20,540 sf single story building and associated modifications and improvements to on-site circulation and landscaping in the vicinity of the new building and as needed to accommodate required non-confirming upgrades. The new building will support career and technical education programming to allow the site to serve as a atemporary location for Benson Polytechnic High School. Adjustment to the setback.
A project at 8005 SE 13th Ave has been submitted for a Type II Design Review by William Kaven Architecture:
The proposed project is a new three-story, mixed-use structure located aat the intersection of SE 13th Ave and SE Nahalem St. It is comprised of two stories of residential apartments over ground floor retail, lobby, and residential units. The project site is 8003-8005 SE 13th Ave, and currently contains a single story residential structure, to be demolished. the project proposes a mix of Studio (11) and One bedroom (8) apartments for a total of 19 units. Modification to Transit Street Multi-Dwelling Main Entry Location (33.130.242.C.1&3). Modification to Vertically Hung Bicycle Rack Spacing (33.266.220.C.3.b)
A project at 1325 SW Gibbs St has been submitted for a Type III Planned Development Review:
A planned development to construct two multi-dwelling structures to contain a total of 21 units (12 one-bedroom and 9 two-bedroom units). A partition to create an environmental tract to preserve the norther portion of the property that is in the "c" overlay. Four modifications through the environmental review criteria to the R7 base zone standards and land division standards to: 1) increase the maximum lot size, 2) increase maximum building coverage, 3) allow a split-zoned property, and 4) allow a reduction to the parking lot interior landscaping tree requirement.
A project at 5505 NE Glisan St has been submitted for building permit review by Studio 3 Architecture:
Construct new 4 story (22) unit apartment building with interior trash room and fire riser room; associated site work
A project at 1604 SE Cesar E Chavez Blvd has been submitted for building permit review by Studio 3 Architecture:
Construct new 4 story apartment building with associate site work
A project at 1726 NE 82nd Ave has been submitted for building permit review by Kaul Design Architecture:
New 78 units, 5 story apartment building with garage on ground floor, retail on west side of first floor.
A shoring, excavation and foundation permit is under review for Fremont Place at 1650 NW Naito Parkway:
FND 01- Shoring, excavation and foundation work for a 17 story mult family building. Scope to include demolition, excavation, underground shoring, foundation piles, foundation walls, structural mat slab and underground waterproofing — level P1 to L1 slab
A building permit was issued to Fosler Portland Architecture for a project at 6310 N Maryland Ave:
Build 3 story 18 units apartment building. Mechanical separate.