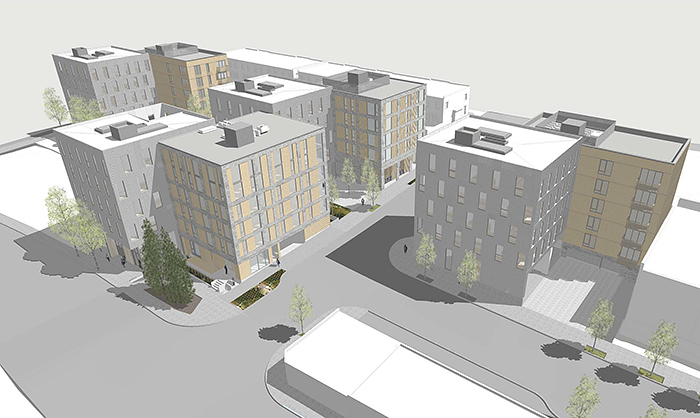 The Daily Journal of Commerce wrote about the "variations on a theme"* planned by Waechter Architecture and Jones Architecture for the Northbound 30 Collaborative at 2123 NW 30th Ave.
Hotelier and former Ambassador to the European Union Gordon Sondland is selling a parcel land at 320 NE Lloyd Blvd, reports the Oregonian. The property was acquired from Metro in 2016 as part of settlement to legal action related to the Hyatt Regency at the Oregon Convention Center. A proposal in 2018 to build a music venue, commercial space and a 14-story residential tower on the site never moved forward.
Portland plans to readopt the Central City 2035 Plan—which is not currently in effect—with the same building heights in the New Chinatown / Japantown Historic District, writes Building on History.
Portland Architecture spoke to Dietrich Wieland and Rich Mitchell of Mackenzie, on the occasion of the 60th anniversary for the architecture, engineering and design firm.
Metropolis wrote about how Hacker Architects put the French American International School on the path to net zero carbon with its new Gilkey International Middle School building.
Portland Monthly wrote about three large projects that are reshaping Portland neighborhoods: the Pepsi Blocks, Block 216 and the ART Tower.
*This article will be unlocked for the rest of this week. After this week it will only be viewable by DJC subscribers.