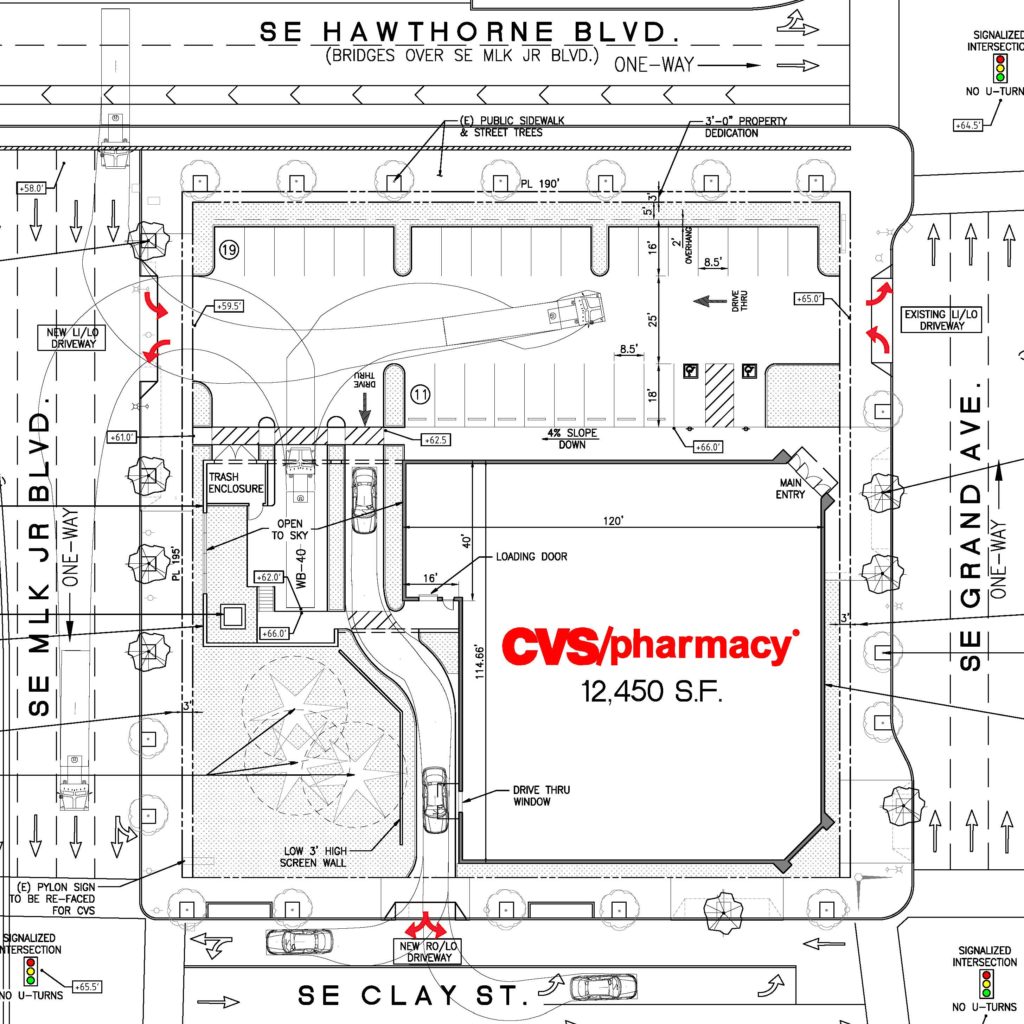 Every week, the Bureau of Development Services publishes lists of Early Assistance applications, Land Use Reviews and Building Permits processed in the previous week. We publish the highlights. This post covers December 14th, 2020 to December 20th, 2020.
Design Advice has been requested by Barghausen Consulting Engineers for the Grand Ave CVS at 1525 SE Grand Ave:
The project includes the construction of a new approx. 12,450SF retail pharmacy with drive thru window and surface parking for 28 vehicles.
Early Assistance has been requested for a project at 8959 SW Barbur Blvd:
We propose to remodel the existing approximately 16,000 sq ft 2 story office building into inclusionary subsidized housing apartments. In addition, we would be adding 2 additional stories on top of existing structure as the first building. The second would be a new 4-story structure with a daylight partial basement for storage and laundry.
Minnesota Places at 1208 N Jessup St has been submitted for a Type II Design Review by Wright Architecture:
This case may be subject to the 100 day review timeline. Proposal for a new 72-unit residential building, approx. 53,000 SF on 1/4 block site in the North Interstate Plan District. 100% of the units will be offered at 60% Average Median Income (AMI), and are proposed as a mix of three-, two- and one-bedroom apartments. Proposed 8-story structure to be modular, Type IVC mass timber construction with mass plywood panels (MPP). Includes on-site stormwater facilities.
A project at 4738 SE Belmont St has been submitted for building permit review by Studio 3 Architecture:
PDOX PS – construct new 3 story mixed use apartment building with 19 apartment units and ground floor retail; associated site work
A building permit was issued to Studio 3 Architecture for a project at 1515 N Simpson St (previously 5905 N Interstate Ave):
New 3 story, 19 units apartment building with partial retail on ground floor and associated siteworks. Trash enclosure inside. *** MT to be submitted seperatly ***
A building permit was issued for a project at 7350 N Greenwich Ave:
New 3 story – 16 units apartment building with associated site work. Trash enclosure inside. W 19-217568 MT.