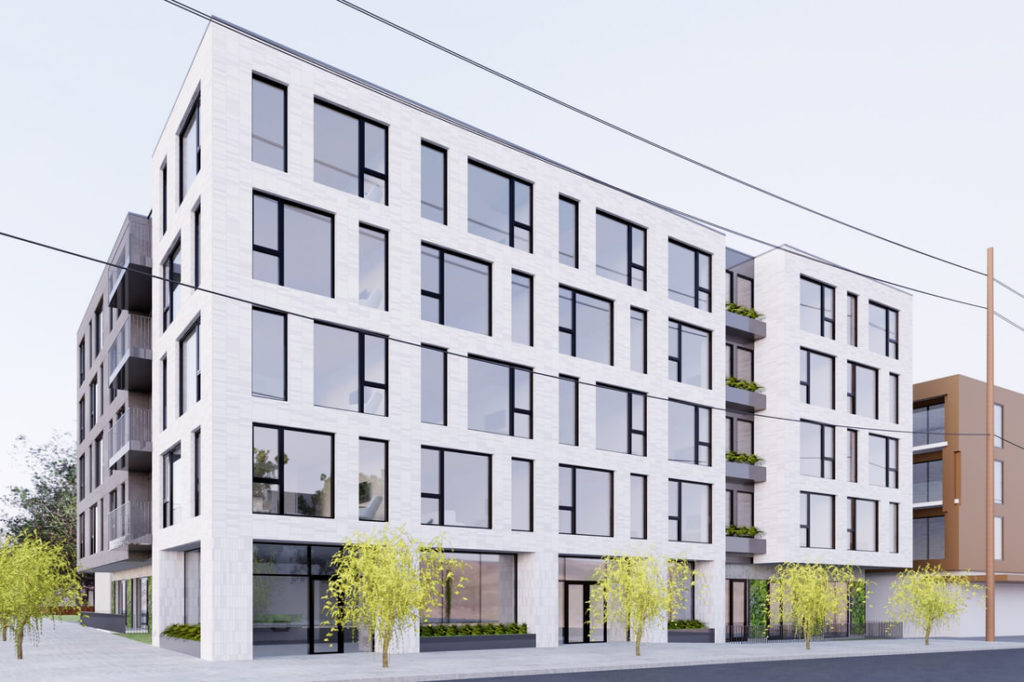 Metro Reports have moved to Portland Maps Reports. Next Portland covers the highlights of the Early Assistance applications, Land Use Reviews and Building Permits processed each week. This post covers January 3rd, 2022 to January 9th, 2022.
Early Assistance has been requested by Schmidt Architects for a project at 1415 N Pier 99 St:
Removing building from deck up, everything below deck is to remain. A new building on top of existing deck. Using design standards.
A project at 221 NE 122nd Ave has been submitted for a Type II Design Review by Hennebery Eddy Architects:
The applicant seeks Design Review approval for the renovation and addition to a vacant building. Formerly a grocery store, the 52,600sf building is located at the corner of NE 122nd Avenue and NE Davis Street. The proposal includes a 4700sf addition at level one and a 15,600sf addition on level two to accommodate a new County library distribution center. A large new entrance will be added at the northeast corner of the building, replacing the existing awning and colonnade at this location. Both the level one and level two additions are proposed to be topped with an extensive PV array. The existing surface parking area is proposed to remain, with required landscaping and stormwater improvements. The existing loading dock is proposed to remain, with an additional trash enclosure added to the southwest corner of the building. A required dedication along NE 122nd Avenue will result in a wider sidewalk. Modification requests [PZC 33.825.040]:1.The minimum setback required at a street lot line across a local street from a RM3 zone is 10¿ feet and the maximum building setback is also 10¿ feet. (33.130.215.B.1.a | Table 130-2);2.Allow exterior storage of library fleet vehicles behind fences within the existing surface parking area (33.130.245.C.1);3.Reduce the required 5-feet of L2 landscaping or 10-feet of L3 landscaping between the south loading dock and the south property line to zero, due to the existing required 8-foot tall CMU wall at this property line (33.266.310.E | Table 266-8); 4.Reduce the depth of the required L1 landscaping or hardscaping for pedestrian use between the NE Davis property line and the building from 55-feet to 0¿ in some areas, due to the existing loading area, driveway and 8-foot-tall CMU screen wall in this area (33.521.240);5.Increase the distance of the main entrance from the street lot line from the maximum allowed 15¿ to 35-feet 11-inches from the NE 122nd property line (33.521.250.C.2); and6.Increase the distance between the
Early Assistance has been requested for a project South of 9120 SE Powell Blvd:
The building to be constructed on the Project site (the "Building") will be approximately two stories and 44,000 rentable square feet and will have approximately 275 accessory use parking spaces in a parking structure and surface parking. The proposed use is for oncology/cancer care, with other permitted accessory uses. The proposal includes a request to vacate a portion of SE 91st Ave.
Early Assistance has been requested for a project at 2056 SE 122nd Ave:
The proposed program would be to provide 35-40 units of affordable housing with surface parking. Stormwater disposal methodology is to be determined.
The SE 27th & Division Apartments at 2680 SE Division St have been submitted for building permit review:
PDOX PS: new 5 story, 52 unit apartment building with inclusionary housing and vegetated flow-through stormwater planter. W 21-117310-mt
A building permit was issued for the Troy Laundry North at 1010 SE Ash St:
TROY LAUNDRY NORTH – New 6-story, 104 unit mixed-use building with ground floor retail and amenity, outdoor roof amenity, and residential/extended stay units above *** w/ 20-197604-MT *** BELOW GRADE PARKING LEVEL REMOVED FROM SCOPE OF WORK 8/6/21 ***
A building permit was issued to Carleton Hart Architecture for the Joyce Hotel at 322 SW 11th Ave:
Joyce Hotel Building – Renovation and adaptive re-use of the existing 4-story (plus basement), un-reinforced masonry structure. Project is an affordable, SRO development consisting of 66 units total. Shared bathrooms. (with 21-045693-MT)
A building permit was issued to Scott Edwards Architecture for the Isaka Shamsud-Din Apartments at 1420 NE Killingsworth St (previously 5421 NE 14th Pl):
New four story, 29 unit affordable housing multi-family residential complex located on NE 14th Place at NE Killingsworth. No parking to be provided. Community room and shared outdoor space to be provided. Proposed site development includes new utilities, accessible courtyard, landscaped areas and street trees. (with 21-036139-MT)
A building permit was issued to Scott Edwards Architecture for a project at 5754-5778 NE 72nd Ave:
West Building / New three story, 6 unit multi-family building consisting entirely of affordable housing composed of two building. Surface parking to be provided. Community room and shared outdoor space to be provided. Proposed site development includes new utilities, landscaped areas and parking. (w/ 21- 037910-MT and 21-036216-CO & 21-036221-MT).

East Building / New three story, 6 unit multi-family building consisting entirely of affordable housing composed of two building. Surface parking to be provided. Community room and shared outdoor space to be provided. Proposed site development includes new utilities, landscaped areas and parking. (w/ 21- 036221-MT)